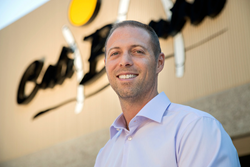 Cali Bamboo was created with the intention of protecting the future of our planet, and I'm exceedingly proud of our passionate employees who are making this vision a reality every day.
San Diego, CA (PRWEB) January 30, 2015
Cali Bamboo, the leading manufacturer of eco-friendly building materials made primarily from bamboo, announced today that founder and CEO Jeff Goldberg was named a finalist for the 2015 Most Admired CEO Awards by the San Diego Business Journal. This prestigious award recognizes industry leaders' great achievements within their companies and in the community, demonstrating determination and insight that yields huge successes for their organizations. This is the third year Goldberg has been a finalist or honoree for this award.
Goldberg founded Cali Bamboo in 2004 alongside co-founder Tanner Haigwood with the mission of having a positive impact on the environment by providing highly-renewable alternatives for building materials. A shining example of how individuals, businesses, and communities can implement stylish architectural and interior designs without impacting the environment, the company's expansive product offerings include bamboo flooring, reclaimed wood flooring, bamboo fencing, composite decking, and more.
"Being recognized among all of these great San Diego leaders is quite an honor and I'm humbled to be on this list," said Goldberg. "Cali Bamboo was created with the intention of protecting the future of our planet, and I'm exceedingly proud of our passionate employees who are making this vision a reality every day. This award speaks volumes of the hard work and dedication of the entire company."
Under Goldberg's leadership, Cali Bamboo has been honored with numerous awards and accolades, including Inc. 5000's List of Fastest Growing Private Companies six years in a row. The company has become one of the most sought-after places to work in San Diego, recently recognized among the San Diego Union Tribune's Top 40 Workplaces. Goldberg has previously been honored as San Diego's Ernst & Young Entrepreneur of the Year.
With an unwavering commitment to protecting the planet, Goldberg leads Cali Bamboo's involvement with several local environmental organizations. The company has been a recipient of Surfrider San Diego's Clean Water Award and was recognized as San Diego Coastkeeper's largest donor from 2008-2010. Cali Bamboo is also committed to giving back to the community and regularly sponsors the San Diego Humane Society, San Diego Botanical Gardens, and Susan G. Komen for the Cure. To learn more about Cali Bamboo's philanthropic efforts, visit http://www.calibamboo.com/givingback.html.
The San Diego Business Journal's Most Admired CEO Awards are determined by an independent panel of judges considering multiple nominations for CEOs who have taken the lead in driving their businesses and the local economy. The panel considered qualities including leadership, values, vision, company's financial performance, commitment to quality and diversity, work environment, community contributions, innovation and overcoming adversity. To view the complete list of the Most Admired CEOs, visit http://www.cbjonline.com/a3sdbj/events/CEO_Flyer.pdf.
About Cali Bamboo
Headquartered in San Diego, Cali Bamboo manufactures green building materials made primarily of bamboo — one of the world's most durable, sustainable and renewable materials. Founded in 2004, the company has become a model of how individuals, businesses and communities can implement modern design while maintaining structural strength and environmental integrity. Cali Bamboo services residential and commercial building projects across North America with a wide range of products including bamboo flooring, fencing, composite decking, plywood, cork wall tiles, poles, paneling and more. For more information visit http://www.CaliBamboo.com.