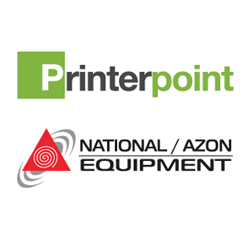 San Francisco, CA (PRWEB) February 01, 2015
National / AZON, the leading provider of Canon wide format print equipment and supplies, announced today that equipment dealers can now use Sepialine's Printerpoint software to remotely order supplies for their devices.
Printerpoint is a simple cloud-based solution that monitors and reports real-time consumable usage, device status and billing information across an entire fleet of wide format printers. Printerpoint notifies dealers when a customer's device is low on ink or other consumables, and provides a simple way to order replacements online. Order fulfillment is managed through National / AZON's extensive warehouse system, which currently provides consumables to 80% of the Canon wide format dealers in North America.
Printerpoint's on-demand shipment method can "blind ship" ink cartridges directly to a dealer's customer, meaning the shipment appears to be sent directly from the dealer, rather than Printerpoint or National / AZON. Supplies can be shipped to a dealer's office location as well.
"By providing on-demand cartridge replacement, equipment dealers no longer need to stockpile large numbers of cartridges on site" says Rich Gigl, VP of Marketing for National / AZON. "And by using Printerpoint's supply notifications, dealers increase their consumable revenue by knowing when a device needs ink - even before their customer knows."
"Partnering with National / AZON was a no brainer" says Steve Sogan, Sepialine's Director of Business Development. "By integrating Printerpoint with the leading distributor of wide format equipment in North America, we are able to give our dealer network instant access to certified Canon ink cartridges for their devices with competitive pricing and flexible shipping options. It's a great deal for everyone."
In addition to low ink warnings, Printerpoint tells dealers when devices in their fleet need service, calibration or new parts. Dealers can provide their customers with monthly billing based off equipment usage directly from Printerpoint, without hunting down meter reads from customers each month.
Printerpoint costs $5 per device, per month, and has no annual commitment. A two week trial is available for new customers who sign up at https://www.printerpoint.com.
About Sepialine
Sepialine is a San Francisco-based print management company focused on solving wide format printing challenges. Their flagship application Argos is used by the top Architecture, Engineering and Design firms in the world to monitor printing costs and provide client billing. In 2014 Sepialine introduced Printerpoint, the cloud-based wide format device management solution to address the needs of equipment dealers who place color equipment and need reliable, accurate and flexible billing and monitoring for their fleet.
About National / AZON Equipment
National / AZON Equipment is North America's largest Exclusive Canon Distributor and the only Contex Master Distributor. NAE is a leading distributor of hardware and software products, with a special focus on the reprographic, graphic arts & sign making markets. With manufacturing, sales and distribution facilities across North America, National / AZON Equipment continuously innovates to meet the ever changing needs of large format printing and scanning professionals. NAE has a nationwide presence in the marketplace and will continue to support the principle of reseller-only sales to the print for pay and graphics industry.