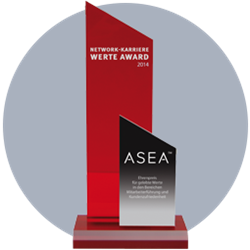 What motivates two American top managers who have successfully led companies worth billions for several years, and who were able to retire early at a relatively young age, to start from scratch all over again and to found... ASEA.
Mainz, Germany (PRWEB) January 31, 2015
Utah-based direct sales company ASEA has received the "2014 Values Award" from leading EU/German direct sales publication Network-Karriere. This award confirms the reason that Trish & Robert Schwenkler, networking leaders with OurGlobalHomeBusiness, were attracted to ASEA in the first place.
Network-Karriere Publisher Bernd Seitz presented the award to ASEA founders and executives in front of hundreds of ASEA associates during the annual leadership training. ASEA was chosen based on the high ethical standards with which it conducts its business throughout Europe and the rest of the world.
ASEA, LLC, which launched in late 2010, manufactures the world's first and only Redox Signaling supplement. These Redox Signaling Molecules in ASEA support the vital activity of cellular repair and replacement that are necessary for optimal cellular health.
To read the full article or to learn more about ASEA, contact Robert Schwenkler at http://www.OurGlobalHomeBusiness.com.