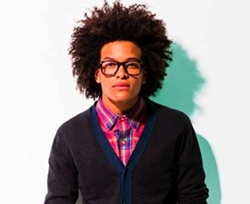 It's my personal mission that our viewers walk away inspired to change the world.
Atlanta, GA (PRWEB) January 31, 2015
Actors Models and Talent for Christ, a talent development ministry, today announced the premiere of a new talk show following the lives of positive role models in entertainment. Hosted by The Sing-Off group TEN star John "Jontez" Montes, The AMTC Show is the first web series that the organization has produced in its 33 year history.
"The AMTC Show is honest and real. It's a place where extraordinary people share their heart and passion." Montes says, "It's my personal mission that our viewers walk away inspired to change the world. To make good bolder!"
The AMTC Show is set to premiere in early 2015. A total of 12 episodes are scheduled to release soon on YouTube and http://www.amtcworld.org.
Each webisode will feature an exclusive look into the lives of AMTC guest stars, agents and staff. Ben Davies (Actor: Courageous, Rumors of Wars), Nicole Smolen (Lead Actor: 8 DAYS) and social media sensation TyAlaxandar (Rapper, Model, Actor) are just a few of the stories that will be airing over the next few months.
"Being on one of the first episodes of The AMTC Show was an absolute honor," says TyAlaxandar. "It was an amazing experience filled with weird fox noises and interrupting 'Momagers.' I loved every second of filming the show!"
Founded in 1982, AMTC is a non-profit organization and a movement. Actors, Models and Talent for Christ is dedicated to "Making Good Bolder" on the stages of film, fashion, music and theater. The organization trains performers to improve their gifts and reflect Christ, while connecting them to an array of entertainment industry professionals.
Official Lineup of AMTC Show Special Guests:
Adam Aalderks: Lead in upcoming film, Ashby. Hindsight and Twisted Mines
Colin Huntley: Rising Star, Kings Of A&R "Best Emerging Artists of 2014"
Nastassja Ras: South African actress/model
Alice Orion: South African singer
Adam She: Executive Director of AMTC
Jaco Booyens: Director of 8 DAYS film
Nicole Smolen: Lead in 8 DAYS film
Tangy Lockman: Hip Hop Nation
Ben Davies: Lead in Courageous and Rumors of Wars
TyAlaxandar: Rapper, Boys of Summer, DigiTour
Alannah Bruce: Lead in upcoming film, Dancer and the Dame
Beth Spangler: The Voice, Season 7
For regular updates, follow The AMTC Show at https://www.facebook.com/TheAMTCShow.