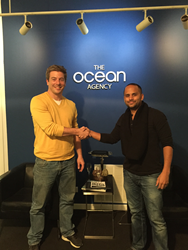 "I am extremely confident in the combined service offering we have created and am eager to see it executed for our clients." - Chris O'Neill
Chicago, IL (PRWEB) February 04, 2015
In late 2014, Chris O'Neill, CEO of Logical Media Group (Logical), successfully acquired Marvin Russell's Chicago-based search engine optimization (SEO) and web design firm, The Ocean Agency (Ocean). Ocean will continue to operate as a brand under Logical.
Logical and Ocean collaborated on several successful projects after O'Neill and Russell met in late 2013, and the two agencies developed a close working relationship.
While Russell was leading Ocean, he developed MySiteAuditor (MSA), a lead generation tool for SEO companies. As MSA grew as a side business, it began to dominate Russell's time and attention, pulling Russell between his two companies. In order for Russell to focus 100 percent of his attention on MSA, O'Neill and Russell transitioned the ownership of Ocean to O'Neill and folded all of its assets under Logical as a secondary brand.
"Chris is an honest gentlemen with excellent business acumen," Russell said. "He has a passion for the digital space and could not be a better candidate to do business with. I am excited about working with him and what he is going to do for The Ocean Agency."
The union of Logical and Ocean creates one full-service digital marketing agency. Where Logical has more experience in paid search, Ocean has more experience in web development. The two teams share common ground in SEO and content marketing. Logical brings a strong and fortified technical approach to SEO, whereas Ocean's SEO strategy is more oriented around content.
"It has been exciting to amalgamate the two processes and unify our SEO techniques for our clients," O'Neill said. "I am extremely confident in the combined service offering we have created and am eager to see it executed for our clients."
The overarching benefit the acquisition brings to Logical clients is the 20 years of experience the two brands collectively bring to the table.
Russell and O'Neill remain friends, colleagues and in close contact with each other. O'Neill stated that "I wish we had the chance to meet years ago and work together to conquer the digital marketing space"
Logical's 2015 strategy is to invest in content marketing (web design, SEO, conversion rate optimization) paid media traffic generation (PPC, display, retargeting, social media paid ads), business analytics (Google Analytics, Site Catalyst, Coremetrics) and Logical's growing staff.
"There are three Ps in business - product, pipeline and people," O'Neill said. "The first two Ps are nothing without the last P. Your people are crucial to your company's success."