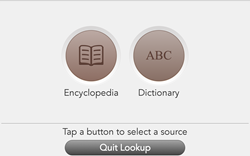 "I never thought I would be able to use a tablet computer and access information on the Internet, this is magical!"
Santa Ana, California (PRWEB) February 04, 2015
grandPad, is a simple and secure senior tablet computer and integrated cloud curation service designed to digitally connect seniors with family and friends. The end-to-end grandPad experience is the fastest and most cost effective way to bring seniors into the digital age so they can connect with family and friends.
With this latest capability, Lookup, grandPad users can search the internet using the "Web Encyclopedia" for a topic and have that information displayed to them in a simple and secure way. In addition, they also have an "Internet Dictionary" that will return the definition of any word they search.
This tablet is designed for the absolute beginner and includes everything they need, from a wireless charging cradle, special stylus and case, right down to curated music and content delivered from the cloud. The icons and text are large and easy to read and content is pre-loaded into the device with no setup or configuration required for the grandPad user. The tablet is always connected to the internet via 4G LTE connectivity so seniors can travel with their grandPad and always be able to communicate. This purpose built, end-to-end solution allows seniors to send voice emails, view pictures and videos, access information on the internet, listen to music and videos, play games Solitaire and Sudoku, and make video calls, and much more.
It takes less than 5 minutes to order a grandPad from http://www.grandpad.net. During the setup process, a family admin adds contacts for family members and friends so they can connect to the grandPad via a grandPad companion app on their smart phones. The grandPad will arrive in 3-5 days pre-loaded with family contacts and personalized content, ready to go with no setup for seniors.
Currently, grandPad is only available in the United States direct to consumer and business-to-business bulk sales. grandPad is founded on the mission that "simple joys should be simple to share." To learn more, visit http://www.grandpad.net.
About grandPad:
grandPad Inc. was founded on the idea that current digital communications technology should be accessible to seniors. The mission behind the grandPad is that technology should be intuitive, engaging, transparent and not complex. grandPad has created a simple tablet that connects and helps seniors communicate easily with family and friends. Simple joys should be simple to share.