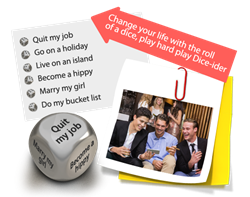 Sir Richard Branson …at the time I was very much under the influence of the Dice Man books…
(PRWEB) February 03, 2015
The developers on a new app called Dice-ider designed their app to be all about having fun, but what they didn't know at the time was that Dice-ider is a perfect modern day fit for the 1971 cult classic The Dice Man. Luke Rhinehart's novel tells the story of a psychiatrist who begins making life changing decisions based on casting dice to choose among listed options, and introduces his patients to the dice life as well.
The Dice-ider mobile app simplifies The Dice Man concept by enabling the user to write up to six decision options on the face of high quality 3D dice animation, and then, by simply shaking or flicking the dice on the phone's screen, roll the dice for a decision. Both the list of decision options and the final dice decision can be shared with friends on any social media including Tweeter, Facebook, Instagram and Google+ which is expected to increase adoption.
Business tycoon Sir Richard Branson recently told The Independent "…at the time I was very much under the influence of the Dice Man books…" when asked how The Dice Man influenced his decision-making in the early days of his Virgin Records label. The French Vogue magazine this summer called The Dice Man "One of the most audacious novels ever written." The book has become a modern cult classic, having been translated into 25 languages. The book is selling more copies in this last decade than it did in the decade of its initial publication. Given the popularity of The Dice Man it seems Dice-ider is set for a big future.
What has made The Dice Man so popular is not quite clear, but the allure of risky behavior, specifically sexual behavior, continues to draw large audiences, with the recent success of the novel Fifty Shades of Grey being another example. Maybe the sequel will be a release called Fifty Shades of Dice-ider or we'll see Dice-ider showing up in movie scripts.
With Dice-ider enabling people to easily enter decision options and roll the die, the opportunity to truly live the life of The Dice Man has arrived, and not surprisingly the author Luke Rhinehart loves this modern technology take on his classic: "I like this app, playful and light but getting people to take risks. People should try it." Makes you wonder if Richard Branson is a Dice-ider customer yet?
Dice-ider is available for a $0.99 download from both iTunes & Google Play