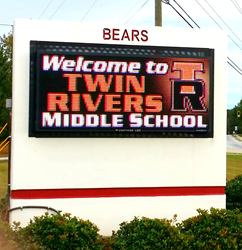 The quality of the Vantage product speaks for itself. It allows schools to do things that weren't possible just a few years ago.
Buford, GA (PRWEB) February 23, 2015
Twin Rivers Middle School is providing quality education to 6th, 7th, and 8th grade students in Gwinnett County. With a strong focus on PTA, a vast offering of extracurricular activities, and an utter care for preparing students for the future, the school found it was important to have an effective means of communication in place to relay messages and events to students, parents, and the community at large. With many surrounding Gwinnett County schools upgrading to LED message centers, Twin Rivers decided this was the best route to achieve their goals.
The obvious choice for this project was Big Mouth Signs, Inc., being that they are the number one provider of electronic message displays for Gwinnett County schools. Having provided for 14 schools in Gwinnett County, Twin Rivers Middle School knew they were in the right hands. Big Mouth Signs, Inc. recommended an LED sign manufactured by Vantage LED for the school, based on their renowned quality, intuitive software, and industry-leading warranty.
"The quality of the Vantage product speaks for itself," stated Mark Kasson, of Big Mouth Signs, Inc. "It allows schools to do things that weren't possible just a few years ago. With Vantage's cloud-based software, schools and businesses can update their electronic displays from just about anywhere. Not to mention the 5 year replacement parts and on-site labor warranty that is, without a doubt, the best in the industry."
Twin Rivers Middle School has unique extracurricular offerings and events made up of intramural sports, Honor Orchestra, Junior Beta Club, Spirit Night, annual food drives, and much more. Twin Rivers believes that positively impacting their students' lives requires parental involvement, and they strongly encourage parents to join the PTA. Their new LED message center will make it easy to communicate the logistics of activities and events, including PTA meeting reminders, with parents as they drop off and pick up their students from school.
Along with their new message sign, the school received free professional content creation from SM Infinity. SM Infinity is an innovative cloud-based software solution that enables users to access their sign from any internet-connected device, allowing updates to be made instantaneously. Integrated in the software, is access to a team of graphic designers whose ultimate goal is that their clients have appealing content on their LED signs. The school can receive personalized dynamic animations and still images for their sign that ensures it is capturing the attention of parents, students, and passersby.
"We were extremely impressed with the features and overall look of the display, stated Linda Boyd, Principal of Twin Rivers Middle School. "What stood out the most for us was the price, technology assistance, and ease of use. We are extremely excited about the capabilities of our new sign, and we have already received many compliments from the public."
The school exemplifies their motto, "Expect Excellence in Everything," with their efforts to empower and challenge their students, adequately preparing them for the world ahead.
About Big Mouth Signs:
Located in metro Atlanta, GA, Big Mouth Signs, Inc. is a full-service provider of indoor and outdoor visual communications products. They specialize in providing standout commercial signage that helps their clients' businesses get noticed. Their product offering includes, but is not limited to, banners, yard signs, real estate signs, commercial signage, channel letters, light cabinets, monument signs, electronic message displays, and much more. Being a family-owned business, they take pride in the service and products they provide their clients. They enjoy helping others succeed, and they are determined to deliver and exceed their customers' expectations.