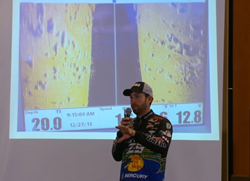 Pittsgrove, New Jersey (PRWEB) February 04, 2015
The cold weather may be keeping many fishermen indoors this winter, but now may be the best time for bass anglers to prepare for the upcoming spring fishing season. Brand new digital videos taught by the top pro anglers have been added to The Bass University TV's massive online library, which features the most in-depth instructional bass fishing class videos for anglers of all skill levels and ages. "The new 2015 season of The Bass University TV is here and we are releasing new educational features to our fun, online learning platform" says The Bass University co-founder Pete Gluszek. "Mike Iaconelli (also a co-founder of The Bass University) and I are pleased to announce new instructors such as Jason Christie and Brandon Palaniuk, all new topics, the instructor PowerPoint presentations are now downloadable, and we have more great announcements coming soon for 2015."
The Bass University TV is an exclusive video library consisting of the most in-depth bass fishing class videos for all skill levels of bass fishermen looking to bring their skills to the next level. From on-water training to one hour long class videos, you will learn highly detailed information and tactics from the top pro anglers on the Bassmaster Elite Series and FLW Tour. A brand new full class is added every week and The Bass University uploads many bonus on-water training and fan mail videos with Mike Iaconelli and Pete Gluszek. Each pro angler teaches in great detail about his specialty techniques and tactics that have helped him consistently catch big bass and win big paychecks on the professional tour. All members receive unlimited access and can cancel at any time. Check out The Bass University TV today and become a part of their mission to "Never Stop Learning". The Bass University's huge video library of 45+ minute bass fishing class videos can be viewed on TheBassUniversity.com/TV.
WINTER SPECIAL: Complimentary shirt for all new Bass University TV members. Monthly subscriptions are $14.99 and new subscribers will receive a white short sleeve shirt. Annual subscriptions are $149 and new subscribers will receive an orange long-sleeved shirt. Complimentary shirt is a limited-time offer, which starts February 3, 2015 and ends after February 28, 2015. Visit TheBassUniversity.com/TV to subscribe and for additional information.
2015 Class Videos*:
Mike Iaconelli:

Seasonal Tidal Water Tactics
All About Finesse Jigs
Jason Christie:

Elite Flipping & Pitching
Catch More and Bigger Wintertime Bass
Greg Hackney:

How Seasonal Water Temperatures Affect Bass
Bait Selection by Water Temperature
Brandon Palaniuk:

The Percentage Triangle
Search Mode Cranking
Bryan Thrift:

The Damiki Air Frog
The Art of Skipping Baits
Kevin Short:

Why K-Pink is a Better Square-Biller than You
Are You Tough Enough?
Cliff Crochet:

Frog Fishing
Lipless Cranking
Joe Balog:

Big Water Smallmouth Fishing
Deep Structure Fishing for Smallmouths
Dropshot Fishing for Smallmouths
Mike McClelland:

Hard Baits For Spring
Jigs and Soft Plastics
Jacob Wheeler

Deep Water School Made Simple
Top Topwater Tactics
Justin Lucas:

Wacky Rigging
Tournament-sized Swimbaits
Ott Defoe:

Suspending and Floating Jerkbaits
Cranking
Jonathon VanDam:

Finding & Catching Deep Smallmouth Bass
Seasonal Transitions of Smallmouth Bass
Bernie Schultz:

Topwater Tactics
Finding Bass Fast
Adrian Avena:

How Do I Get There From Here?
Avena's 7 for Success in All Seasons
Randy Howell:

Mid-depth Cranking and Lure Sounds
The Latest and Greatest of Topwater Tactics
Mark Menendez:

Cranking All-Year Long
Jerkbaits By Water Temperature
Fred Roumbanis:

Frogs and Toads
Swim Jigs the Ultimate Search Bait
Pete Gluszek:

Winter Time Strategies
Find the Best Water near you
Fishing Line
Boat Rigging and Operation
How to target and pattern fish in giant water/big waves
Cold Water Spring-time Cranking
Sonar/ GPS Electronics
Understanding Bass Forage
Ish Monroe:

Fishing to be Consistent
Fishing to WIN
Fishing For Big Fish
Ish Monroe's Tournament Tactics
John Crews:

Know Your Tools Part 2
Power Finesse Flipping
Fletcher Shryock:

Flipping and Pitching
Targeting Great Lakes Smallmouth
*One 2015 class video will be uploaded each week to The Bass University TV video library. The 2015 class video list is not a schedule of the order of the video uploads or release dates. 2015 class videos are subject to change.
About The Bass University:
The Bass University is the leader in providing the most in-depth bass fishing educational programs to bass fishing enthusiasts around the world. The Bass University's students learn from proven in-depth tactics and techniques from the world's top professional anglers. Become a subscriber of The Bass University TV, attend their next class, or go on an on-water training trip to gain access to the most cutting edge techniques, tackle, and equipment in bass fishing. Visit TheBassUniversity.com for additional information.
Remaining 2015 Live Class Schedule:
-February 7th and 8th: Boxborough, Massachusetts
-February 14th and 15th: Columbus Ohio
#TheBassUniversity #NeverStopLearning