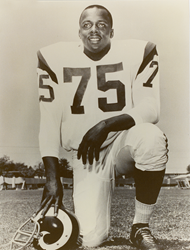 The Deacon Jones Foundation proudly presents the NFL Artwork Program, a charitable merchandise program benefiting disadvantaged children
Nationwide (PRWEB) February 05, 2015
The Deacon Jones Foundation proudly presents the NFL Artwork Program, a charitable merchandise program benefiting disadvantaged children. Founded by Pro Football Hall-of-Famer and NFL legend Deacon Jones, the Foundation serves inner-city youth.
Interested buyers can purchase museum-quality, fine art pieces officially licensed by the National Football League from world-renowned sports artists on the Deacon Jones Foundation website, or by directly contacting the Foundation. Each painting depicts a player, team, or special moment in football history. Uniquely crafted for the Deacon Jones Foundation, every print features the NFL trademark and cannot be found anywhere else.
Each piece is reproduced into limited-edition giclée prints, produced on archival canvas. Using the latest techniques in printing technology, this process guarantees rich detail and lively color.
Proceeds from the artwork sale go to support inner-city youth, helping children reach their educational and artistic goals while preserving Deacon Jones' legacy. As a 501(c)(3) public charity, any purchases or donations made to Deacon Jones Foundation may qualify as a charitable tax deduction for income tax purposes.
About the Deacon Jones Foundation Artists
Nine renowned sports artists have been commissioned for the Deacon Jones NFL art program.
● Edgar J. Brown, "one of the most sought-after artists in the world," has paintings featured in museums, sport facilities, and art galleries across the nation. His work is owned by some of the most famous athletes in sports history, including Bill Parcells, Eli Manning, Michael Strahan, Lawrence Taylor, Ottis Anderson, Mark Bavaro, and Phillippi Sparks. Brown hails from Bethlehem, PA.
● Residing in Austin, TX, Robert Hurst also lends his talent to the Foundation, bringing with him major name recognition as the Official Artist to the College Baseball Hall of Fame. Hurst's notable work hangs at the Babe Ruth Museum in Baltimore, the University of Texas, in the Dallas Cowboys art collection, and many others.
● Splitting his time between Venezuela and Las Vegas, NV, Jota Leal previously showed his surrealistic style of art at Jack Galleries in Las Vegas and New Orleans, as well as The World of Art Showcase, Chalk Farm Gallery, Copro Gallery in Santa Monica, CA, and the Art Encounter Gallery in the Forum Shops at Caeasar's Palace, Las Vegas.
● With a passion for artistic realism, Rob Jackson captures his subjects with ease. Jackson has painted live at events such as Super Bowl Week and uses his talents to help raise money for charity on behalf of various foundations. Jackson lives in Keller, TX.
● A diehard football supporter, both players and fans have commissioned Coopersville, MI resident David Courson for stellar sports paintings. His paintings are in the collection of Candace Parker, Logan Couture, Bobby Ryan, Antoine Bethea, and Daryl Washington.
● Renowned for his classic black and white style, Dave Hobrecht captures exciting moments in sports history with paper, charcoal, and pastels. After being hit by a car at age 13, Hobrecht amazingly overcame his prognosis of never being able to walk again. Hobrecht currently lives in Santa Monica, CA with his wife and kids.
● Hailing from Ontario, CA, graphite and acrylic artist Jamie Thomas has worked with several professional athletes for private commissions. Currently, Thomas finds himself engrossed in several projects for top sports trading card manufacturers.
● A Master Printer and chromist, Daniel Leeland Woodward studied under the direction of world-famous chromist, Jean-Pierre Remond. Woodward boasts more than 20 years of experience producing limited-edition fine art lithographs. Woodward also lives in Las Vegas, NV.
● Dubbed the "Michelangelo of the Meadowlands" by Fox Sports Broadcaster Tony Capparelli works as a professional artist and college art professor. Capparelli created the "Super Bowl XLIV Portrait" for the National Football League, was featured at 100th Anniversary of the Babe Ruth Museum, has written guest columns for the NY Daily News, among various other notable accomplishments. Capparelli resides in Dumont, NJ and maintains a studio in New Jersey.
About the Deacon Jones Foundation
Founded in 1997, the Deacon Jones Foundation helps inspire, mentor, and challenge inner-city youth through community outreach and youth programming. Their mission is to develop leaders and positive role models, giving underprivileged young people the tools they need to succeed. The Foundation promotes a cycle of giving and caring by ensuring youth remain inspired to lend their talents to the community.
NFL legend Deacon Jones started the Foundation, serving as the president and CEO until his passing in 2013. Inducted into the Pro Hall of Fame in 1980, Jones' impressive career spanned almost fifteen years, spent playing for the Washington Redskins, San Diego Chargers, and Los Angeles Rams. Known as the "Secretary of Defense," he helped revolutionize the defensive position with his legendary move the "quarterback sack."
To learn more about the Foundation, call 702.907.8475.