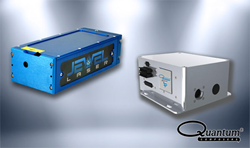 Bozeman, Montana (PRWEB) February 06, 2015
The DPSS Jewel Lasers were released in December and the Mid-Infrared Lasers have a 2015 launch date. Both lasers feature a small form factor, rugged components, and the high quality elements that are Quantum Composers signature. The lasers are both diode pumped and will be used for industrial, medical, and research applications.
The Jewel Laser is just 6 inches long and weighs only 2.5lbs, becoming one of the smallest, lightest, diode pumped lasers in its class. The Jewel will reduce the space and weight limits on laser systems and with its swappable resonator, downtime and production costs are reduced dramatically. Created with extensive Built-In-Test, the USB or optional Bluetooth wireless interface may be used for programming and running diagnostics without ever touching the system, making it perfect for clean room applications. This laser will also be used for LIDAR, PIV, LIF, OPO, TFT-LCD repair, ablation and mass spectroscopy applications.
The MIR Series Mid-infrared lasers offer software-selectable output pulse energies in compact and robust packages. This system is diode pumped, which eliminates the need for scheduled maintenance and water cooling. These features facilitate hassle-free integration into laboratory experiments, or for use as an OEM unit. Applications for the MIR Series include ablation and ionization for mass spectrometry, mid-IR spectroscopy, remote sensing, and LIDAR. These applications benefit from the MIR Series' high pulse energy, single-mode emission, and user-friendly, turn-key operation.
About Quantum Composers: Quantum Composers was founded in 1993 in Bozeman, Montana, an already accelerating high tech center for electro-optic startups. Over the last 20 years, Quantum has become an internationally recognized pioneer in the electro-optics market place with the design and development of a precision pulse generator line and as a provider of custom laser systems for micromachining applications.