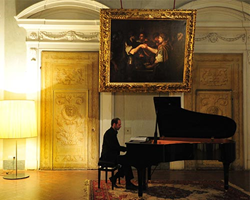 We are excited to apply our philosophy of apartment-based deep travel to the luxury market.
Media, PA (PRWEB) February 17, 2015
Untours announces the launch of European luxury vacations in Paris and Florence. Private Access Journeys offers a rich menu of unique local experiences tailored to travelers' specific interests and passions. Arrangements include concierge-level service on site and luxury accommodations in the city center.
"We can arrange after-hours visits to Versailles and access to private wings of the Uffizi museum in Florence," says Private Access Journeys Director Patti Kirkpatrick. "Hot air balloons over Tuscany. Helicopter tours over Paris and the countryside. The sky is not the limit here."
Responding to luxury market trends toward Europe and requests from their own clients, Untours began developing the product in 2013. Untours General Manager Brian Taussig-Lux explains, "After 40 years in the apartment-based vacation market, we are responding to a real need. Luxury travel is mostly hotel based, but some travelers want luxury vacation rentals and the savvy ones want unique on-site experiences."
Untours pioneered self-directed apartment-based vacations in 1975 and continues to thrive in a market full of DIY options. "People can find apartments on line, but our level of personalized service and firsthand knowledge of our destinations distinguishes us. We are excited to apply our philosophy of deep travel to the luxury market."
Guests stay in luxury vacation rentals or hotel accommodations that are hand-picked for their character and comfort, as they prefer.
Private Access Journeys' service begins with a personal conversation with Kirkpatrick, a Certified Travel Consultant with over 20 years of industry experience. "Based on a client's desires, I suggest possibilities and we craft an itinerary of unique experiences to suit them."
On site in Paris and Florence, Experience Coordinators leverage their own experience and local relationships to help design itineraries with special arrangements that are entirely client-driven.
"Our staff can facilitate private access to some of the world's most exclusive treasures," says Kirkpatrick. "They also provide excellent personal service to our guests during their stay."
Private Access Journeys arrives on the scene just as data shows an upward trend in demand for self-directed travel support among experienced travelers in the U.S. market.
"We see an increasing interest in European destinations, but this year it seems people seek to go deeper into the local cultures for their return visits to a favorite place," Kirkpatrick reports. "This interest is coming from travelers and travel consultants who seek expertise that just isn't available on the web."
"We are pleased with the response from clients and agents so far," says Taussig-Lux. "Early indicators show that for high-end, travel-savvy clients, this new type of service is just what the market wants."
Untours has offered apartment-based vacations since 1975, encouraging guests to live like a local in Europe. Offering vacation rental packages in 25 destinations plus small boat cruises, Untours travel focuses on experiencing the local culture. As a founding B Corporation, Untours is committed to best practices for its customers, staff and the environment. Contact Brian Taussig-Lux or see http://www.untours.com for more.