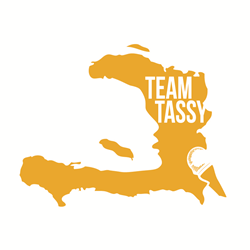 The Haitian people are standing up and moving forward. We're moving with them.
Pittsburgh, PA (PRWEB) February 17, 2015
On the 5th anniversary of the devastating earthquake, Ian Rosenberger, founder of nonprofit Team Tassy, will embark on a 230-mile "Run Across Haiti." From February 21 – March 1, seven participants will run the equivalent of nearly nine marathons in nine days in an effort to raise $75,000 for Team Tassy, who works to prepare and place the poor in Haiti into good, dignified jobs so they can pull themselves out of poverty. Some are running the entire course themselves, while others will participate as a relay team.
The journey begins on February 21 in northernmost Cap Haitien, ending nine days later (including one day of rest) with a double marathon (56.7 miles) to the finish line in Jacmel, the southern tip.
"While training in Haiti last month, people repeatedly asked me, 'Who are you running from?'" said Rosenberger, who was a 2005 contestant on CBS's Survivor: Palau. "It's the 5-year anniversary of the earthquake. The Haitian people are standing up and moving forward. We're moving with them. In addition to raising money to help place people in dignified jobs, the mission of the 'Run Across Haiti' is to show people that Haiti isn't a place to be pitied or feared."
Team Tassy was named for Cité Soleil, Haiti native Tassy Fils-Aime, who will run along with Rosenberger, Kelsey Halling (Pittsburgh, PA) and Josh Elkes (New York, NY). Angeleno and Team Tassy's Executive Director Vivien Luk, Owen Mattison (Boston, MA) and Sean Brennan (Pittsburgh, PA) will run as a relay team. Brennan said, "I'm running to raise money and awareness for Team Tassy because they stick with the families they help until they don't need them any more."
"A 2-hour flight from Miami, people are constantly amazed at how close Haiti is, yet how impoverished it is," said Executive Director Luk. "It hits them that we all can and should do something about it. When Ian and Team Tassy donor Chris Murrer ran 155 miles across the Sahara Desert last year, people stepped up and helped us exceed our $50,000 fundraising goal. We hope that the 'Run Across Haiti' will be even more successful for us in 2015."
Students from La Roche College in Pittsburgh, where Tassy is pursuing a degree in chemistry, will also raise money for Team Tassy by running 932 laps on February 21. Other colleges and high schools will hold similar fundraisers in coming months.
The team will share updates, photos and videos during the run. Follow them on Facebook | Twitter | Instagram . #RunAcrossHaiti
To donate, https://crowdrise.com/runacrosshaiti . For more information and to sign up for updates on the run, http://www.teamtassy.org.
About Team Tassy
The mission of Team Tassy is to unleash the inherent power in every person to eliminate poverty. Established in 2010 in the wake of the Haitian earthquake, Team Tassy focuses on preparing and placing the poor into good, dignified jobs, starting in Haiti, so that they can pull themselves out of poverty forever.
Photos and interviews available.