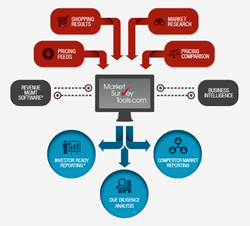 LPC would not want to be without it! Scott Wilder Executive VP - Residential Management, Lincoln Property Company
Dallas, TX (PRWEB) August 04, 2015
MarketSurveyTools.com is cloud-based software that is popular with hundreds of property management companies like Lincoln Property Company and Forest City, that gather and analyze competitive market data to determine best pricing and actual value for apartment communities. The program analyzes pricing and amenity information into critical metrics: historical performance, trending, pricing per square foot and per unit for both scheduled and net rates. It also offers economic overviews for metro areas. Market Survey Tools has the ability to automatically push pricing data to sophisticated yield management software like RentPush.com®, which strengthens pricing analysis and other revenue management functions, such as determining renewal rates and lease terms.
During the last six years MarketSurveyTools.com has created its own database that now includes 7 million units and 53 major metropolitan areas* as well as smaller regions. Spherexx.com has recently created access to this data store for its subscribers. Users can review the property information and decide what to import when the search returns results.
A subscriber can expand marketing information within their current market survey area by accessing program research with the community name or zip code (See Sample). There are also 5 new reports available for market research: ZIP Code Explorer, Rent Change by City, Properties by Zipcode, City Pricing History and Interactive Area Explorer. Floor plan, amenity, size and other valuable information can be instantly acquired. The data access does not share pricing, concession or fee information.
MarketSurveyTools.com also offers a due diligence portal to current subscribers for an additional fee. This option is ideal for investigating new market areas. The same search options are available in the due diligence portal as referenced above. Subscribers can acquire basic community information and avoid exhaustive research.
Subscribers shop their competitors and update competitive pricing information with any adjustments in Market Survey Tools. This provides more accurate business intelligence than trusting shared pricing information, which is often exchanged in consolidated trending rents and other relational analysis. Subscribers can also opt to acquire published data or arrange for the Market Survey Tool team to conduct shopping for an additional fee per floor plan.
The program generates a multitude of report selections which are created in presentation quality, including graphs and charts in standard formats or a la carte customization through a report builder option. It eliminates any need for spreadsheet software.
About MarketSurveyTools.com™ | Competitive Survey Software as a Service
MarketSurveyTools.com generates competitive market studies in a cloud based platform The application will identify competitive apartment communities with utility information, special features, amenities, and pricing criteria to automatically create apartment surveys, occupancy reports, and apartment pricing comparison studies in multiple formats. It generates square foot rents, net rents, area studies, survey histories, graphing, trend reporting, and vivid reports that are easily shared over time and distance.
About Spherexx.Com® Advertising Agency | Software Development | Business Intelligence
Spherexx.com is recognized as an established leader for website, Internet marketing and software development services since 2000. With offices located in Tulsa, Dallas, and Houston, the company has been distinguished as one of INC5000's fastest growing companies. Spherexx.com is a recipient of International Summit Creative Awards, Internet Advertising Competition (IAC), W3 Awards, and is a Webby Honoree. Multi-Housing News awarded two Spherexx.com products with Technology Choice Awards: IloveLeasing for Lead Management and RentPush for Revenue Management for superior service and innovation.
Spherexx.com offers a wide selection of professional services including web design and development, touchscreen kiosks, Internet lead generation tools, online advertising, consulting, advanced mobile technology, apartment lease-up marketing consulting, and search engine performance. The company also provides branding services, video/multimedia production, print media, and copywriting, as well as website and email hosting, database solutions, pay per click, e-commerce solutions and custom programming.
The company has developed CRM (customer relationship management) products, marketing and lead generation tools that allow clients to better manage and convert leads to leases and sales and increase property values. These applications are branded under ApartmentWebsites.com™, Messagekast.com™, ILoveLeasing.com®, MarketSurveyTools.com™, RentPush.com® Revenue Management Asset Optimization and RentIntel™ Business Intelligence. Spherexx.com provides web-based prospecting, marketing, advertising management, and support services.
Spherexx.com has provided services to innovative real estate companies like Lincoln Property Company, Fogelman, AMLI, United Apartment Group, Forest City Management, and ZRS Management with MarketSurveyTools.com competitive surveys.
*Comprehensive Metro Data: Alexandria, VA -Arlington, TX - Atlanta, GA - Austin, TX- Baltimore, MD - Boston, MA - Charleston, SC Charlotte, NC - Charlottesville, VA - Chicago, IL - Cincinnati, OH - Cleveland, OH- Columbia, SC - Columbus, OH - Corpus Christi, TX - Dallas, TX - Denver, CO - Detroit, MI - El Paso, TX - Fort Worth, TX - Fredericksburg, VA - Galveston, TX - Houston, TX - Indianapolis, IN - Jacksonville, FL - Kansas City, KS -Kansas City, MO - Knoxville, TN - Leesburg, VA - Lincoln, NE - Louisville, KY - Memphis, TN - Nashville, TN - New York City, NY - Norfolk, VA - Oklahoma City, OK - Omaha, NE - Orlando, FL - Philadelphia, PA - Phoenix, AZ - Pittsburgh, PA - Portland, OR - Raleigh-Durham, NC - Richmond, VA - Roanoke, VA -Sacramento, CA - San Antonio, TX - San Jose, CA - St. Louis, MO - Tampa, FL - Tulsa, OK -Tuscon, AZ -Winston-Salem, NC and more...