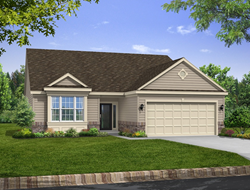 Millville, New Jersey (PRWEB) February 06, 2015
The wait is over! Schaeffer Family Homes "Model Home Grand Opening Event" is scheduled for February 14th and 15th, 2015, and they couldn't be any more excited to showcase their exquisite 2,400 square-foot Jaxon model. This one-story, ranch-style home is 100% Energy-Star Certified that is proven to use less energy than another brand new home built to code, which translates into homeowners spending less money on utility bills. Brad Levine, the on-site Community Manager at Four Seasons in Millville says, "This floor plan is extremely practical and the perfect fit for the active adult consumer that's ready to downsize."
At 1,600 square-feet, the Jaxon model starts at $199,900 and includes two bedrooms, two bathrooms, a two-car garage and a spacious Great Room that's entirely open to the Kitchen area for entertaining family and friends. Also, all Schaeffer homes are built and included on a Crawl Space Foundation instead of a Slab. Levine comments that, "Building on a crawl space not only provides consumers with the ability to have room for storage but also allows access to utilities and eliminates cold floors during the winter months. For anyone with aching bones and knees, the difference between a slab foundation and crawl space can mean a world of difference." The additional 800 square feet showcased in the model home is part of the Finished Basement area. It has a third bedroom with a walk-in closet, third full bathroom, walk-up well exit and full kitchenette while still having direct access to the other half of the basement for storage. Beyond the Energy-Star savings, each home is backed with numerous warranties and are managed by a full time in-house customer care department. Levine says, "We do not cut corners. We build on reputation and take great pride in the quality of our homes while treating each homeowner like family."
Schaeffer has been on site at Four Seasons in Millville since September, 2014 and is 40% sold out in Phase One without a model home or sales office. Levine says, "Being 40% sold out prior to a grand opening event is a tremendous sign moving forward. Once the grand opening occurs, I expect sales to speed up fast! Not to mention, our model home is opening just prior to the spring buying season."
"The community sells itself", says Levine. The site includes an impressive 7,500 square-foot Clubhouse, including a multi-purpose room for residents to host parties and events, a cozy central lounge with couches, fireplace and flat-screen T.V., billiards room, game room, fitness center, bar and fully stocked kitchen. "There's so much to do here", comments Levine. When residents aren't participating in weekly activities that are planned by the Social Committee, homeowners can enjoy the outdoor swimming pool, tennis courts, pickle ball courts, bocce courts or even a peaceful walk within the secluded woodlands that encompass The Four Seasons community. Becoming a resident of the community has additional benefits by taking advantage of the low maintenance lifestyle opportunities. During the brutal winter months, residents can remain inside their homes and enjoy a warm cup of coffee in their pajamas as the association is responsible for snow removal on all sidewalks and driveways.
For those who aren't familiar with the Millville area, Christie Redner, the Director of Sales, notes, "There is so much to enjoy here. From a picnic at beautiful Union Lake, to a stroll through the Glasstown Center Arts District, a visit to the Wheaton Glass Museum or a sunset cruise on the Maurice River." The community location is close to Routes 55, 47, and 40 providing direction connections to the major Shore Points, Philadelphia and Wilmington offering endless opportunities for recreation and entertainment.
The community GPS address is 9901 W. Buckshutem Road, Millville, NJ 08332. Take Route 55 to Exit 24 (Third Millville exit). Make a right turn on Route 49 West. Take Route 49 through town. After crossing the Maurice River Bridge, take the lazy left onto Cedarville Road at the blinking light. Continue onto Cedarville Road past the Millville Airport on your left. At the blinking red light, make a right turn onto Buckshutem Road. Proceed a 1/2 mile and turn right onto Walker Street and the community. Proceed to the Clubhouse which will be straight ahead and then make a left. Model is located at 62 Cottage Street which is the last home on your left.
Please call Alexis Udine at 856-208-5118 or email Alexis@schaefferhomes.com to schedule your private appointment for the event or any date prior. Also, follow Schaeffer Family Homes on Facebook, Twitter and Instagram. For more information on Schaeffer Family Homes and other communities, visit http://www.schaefferhomes.com.