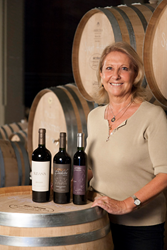 We are honored to welcome Susana Balbo and the team of Dominio del Plata to the Folio family. - Michael Mondavi
Napa, CA (PRWEB) February 06, 2015
Folio Fine Wine Partners is proud to announce esteemed Argentinean producer, Dominio del Plata, joins the national importer, effective today. Dominio del Plata's portfolio includes the brands Crios, Susana Balbo Signature, Nosotros and BenMarco. The agreement marks Folio's entry into the increasingly important Argentine segment, positioning the company for continued growth in its second decade of business.
Dominio del Plata founder and owner, Susana Balbo is excited to continue to build upon her company's success in the US market:
"We are ecstatic to join Folio Fine Wine Partners and the business that Michael Mondavi and his family have built over the last decade. Folio understands our long-term vision, and Michael has a terrific management team led by CEO Paolo Battegazzore."
Folio Co-Founder, Michael Mondavi echoed Ms. Balbo's comments, stating:
"We are honored to welcome Susana Balbo and the team of Dominio del Plata to the Folio family. Susana Balbo, and the wines marketed under the Crios, Susana Balbo Signature, Nosotros and BenMarco brands perfectly align with our philosophic goal of representing the most prestigious family owned and managed wine producers from the world's leading wine regions. Susana's commitment to quality and focus is unending. We look forward to increasing the awareness of her wines and to further burnish her reputation and sales in the U.S."
Based in Mendoza, Argentina, Dominio del Plata winery was established in 1999 by entrepreneur winemaker, Susana Balbo. Ms. Balbo, Argentina's first female winemaker, is considered by many as the "Queen of Torrontes" for her innovative production style on the native white grape variety. Wines are now produced under the Crios, Susana Balbo Signature, BenMarco and Nosotros labels and exported to 36 markets in 33 countries.
The winery's philosophy is founded on four pillars: love and passion, a commitment to nature through sustainable practices, to their customers through the certification of international quality standards and to the building and strengthening of the surrounding community.
About Dominio del Plata – http://www.dominiodelplata.com.ar
Dominio del Plata was founded in 1999 by renowned winemaker Susana Balbo*. In 2011 her children José and Ana decided to join her in the family business. The winery and estate vineyards are located at the foothills of the Andes in the town of Agrelo, Luján de Cuyo - Mendoza, Argentina. Dominio del Plata is focused in crafting high quality wines under the Crios, Susana Balbo Signature, Nosotros and BenMarco brands. Through rapid growth, use of cutting edge technology, and international marketing, the winery excels to export 98% of its production to more than 36 markets, with its main focus being the US. The creation of Dominio del Plata marked a high point in Susana's life; she achieved her lifelong dream of having her own winery where she could create her personal family of wines.
*About Susana Balbo: Susana Balbo is one of the most revered and recognized winemakers in Argentina. In 2012, she was selected by Drinks Business as one of the 50 most influential women in the world of wine. She was recently re-elected President of Wines of Argentina (2014-2016).
About Folio Fine Wine Partners – http://www.foliowine.com
Folio Fine Wine Partners was founded in 2004 by Michael Mondavi and his wife, Isabel, with their children, Dina and Rob Jr. Folio is an importer, fine wine agency and producer of quality wines from the world's premiere and emerging wine regions, providing sales, marketing and public relations services to wine brands from California, Italy, Austria, Germany and Spain. Wines under the Michael Mondavi Family Estate include Animo, Emblem, Isabel Mondavi, and M by Michael Mondavi. From California are the wines of Hangtime and Oberon, from Italy, Arnaldo Caprai, Attems, Bruno Giacosa, Coppo, Dal Forno Romano, Danzante, Donnafugata, Marchesi de' Frescobaldi, Luce della Vite, Masseto, Ornellaia and Villa Sandi. The Spanish portfolio includes Artadi, Capafons-Ossó, Fillaboa, Leda, Nita, Palacios Remondo and Vall Llach, with Laurenz V (Austria), and Prinz von Hessen (Germany) completing the portfolio.
# # #