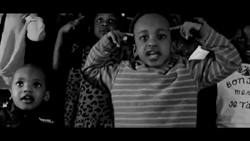 Heir Jordin declares, It's for my life!
East St. Louis, IL (PRWEB) February 11, 2015
Heir Jordin (Jordin Jackson-Prince) of East Saint Louis, Illinois, son of proud father, rapper and drummer Ramel "RT-FaQ" Prince of the group Doorway, is performing his debut song and video "Proud History" dedicated to showing pride for his African American culture and heritage. The five year old rapping phenom raps "I'm proud, I'm proud of my Black History, it's history, and I'm proud" on the chorus for this anthem which amplifies and sums up the overall theme of the release.
Jordin mentions historical figures Malcolm X, Martin Luther King, Frederick Douglas, Rosa Parks, Gabby Douglas and more, articulating and rapping like no other five year old has done before. The video follows Heir Jordin on his journey to many East Saint Louis and Saint Louis historically black landmarks like the Jackie Joyner Kersey Center, the Old Saint Louis Courthouse, the Delmar Loop Stars, and the Chuck Berry Memorial Statue.
Heir Jordin also teams up with his brother Royale Prince (Teddy P) and an array of wild and crazy kids to further hype up the performance scenes. Come along and be amazed by the future of Hip Hop as five year old Heir Jordin performs "Proud History," which could quite possibly be the most profound Black History song ever made.
Find the video https://www.youtube.com/watch?v=6lwFUHAhFJc
Find more at http://www.Doorway.us/proudhistory
Booking(at)doorway(dot)us