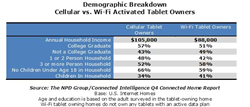 Cellular-embedded tablet use is growing rapidly, however, for it to become a mass market product mobile carriers need to appeal to a mass market audience.
Port Washington, New York (PRWEB) February 09, 2015
As of the fourth quarter of 2014, there were 116 million tablets in use among U.S. consumers. Nearly 16 million of these tablets were actively using a cellular data plan, an increase of 95 percent over the past year. According to the NPD Connected Intelligence Connected Home Report, cellular activations are more common among more educated and more affluent consumers.
Tablet owners who connect through cellular data plans possess a very different demographic profile than their Wi-Fi tablet using counterparts. Among the characteristics, income is the most prominent. Cellular tablet owners have an average household income of $105,000 versus Wi-Fi tablet owners whose average annual income is $17,000 less.
"Cellular-embedded tablet use is growing rapidly, however, for it to become a mass market product mobile carriers need to appeal to a mass market audience," said John Buffone, executive director, Connected Intelligence. "While 2014 marked the year consumers activated cellular enabled tablets, 2015 must become the year this technology reaches a broader demographic audience. Access to Wi-Fi at home and work is the primary barrier to adoption, so messaging from carriers must emphasize on-the-go activities. In particular, navigation, email, and posting photos and videos are the primary activities used more frequently when consumers connect their tablet to a data plan."
Methodology
Connected Home Report
More than 5,000 U.S. consumers, age 18 and older were surveyed in the fourth quarter of 2014. Tablet ownership survey results were calibrated to life-to-date unit sales from the NPD Retail Tracking Service.
About Connected Intelligence
Connected Intelligence provides competitive intelligence and insight on the rapidly evolving consumer's connected environment. The service focuses on the three core components of the connected market: the device, the broadband access that provides the connectivity and the content that drives consumer behavior. These three pillars of the connected ecosystem are analyzed through a comprehensive review of what is available, adopted, and consumed by the customer, as well as reviewing how the market will evolve over time and what the various vendors can do to best position themselves in this evolving market. For more information: http://www.connected-intelligence.com. Follow Connected Intelligence on Twitter: @npdci.
About The NPD Group, Inc.
The NPD Group provides global information and advisory services to drive better business decisions. By combining unique data assets with unmatched industry expertise, we help our clients track their markets, understand consumers, and drive profitable growth. Sectors covered include automotive, beauty, consumer electronics, entertainment, fashion, food / foodservice, home, luxury, mobile, office supplies, sports, technology, toys, and video games. For more information, visit http://www.npd.com and npdgroupblog.com. Follow us on Twitter: @npdtech and @npdgroup.