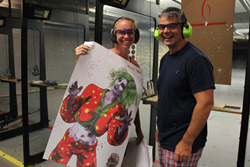 Ashburn, VA (PRWEB) February 09, 2015
Silver Eagle Group, Northern Virginia's top firearms range, offers a unique way to celebrate Valentine's Day this year by hosting Date Night on February 18, 2015, 6:30-9:30pm. An evening of firearms instruction and practice at Silver Eagle Group will be followed by craft beer and pizza next door at local favorite Old Ox Brewery. Registration for the event is now open; the event has space for ten couples.
The evening will kick off with a half-hour of classroom firearms training, followed by an opportunity for couples to test out their new skills on the firing range. Silver Eagle Group staff will be on the range to provide assistance and recommendations. At 8:00pm, everyone will walk just next door to the tasting room at Old Ox Brewery for pizza, beer, and socializing. Each person will get to sample four different craft beers then select their favorite pint to enjoy over pizza. Additional pints will be available for purchase.
Date Night tickets are $135 SEG member (or $145 nonmember rate) per couple. The price includes instruction, range time, and targets at Silver Eagle Group, plus beer tasting, one pint of craft beer, and pizza at Old Ox Brewery. All participants must be over 21. Guns and eye/ear protection will be available for rent as well.
"We're looking forward to another great Date Night evening, and working with our friends at Old Ox Brewery," says Steve Marquez, SEG Vice-President. "You and your special someone can spend time together brushing up on old skills or learning new ones, topped off by craft brew and pizza. Giving a memorable experience beats the same old chocolate or flowers for Valentine's Day."
Register at http://silvereaglegroup.com/event/date-night-hosted-seg-old-ox-brewery-register-5/. Contact Desiree Reese at (571)223-4533 or reesed(at)silvereaglegroup(dot)com if you have any questions.
# # #
Silver Eagle Group (SEG) is a state-of-the-art training facility, offering three modern indoor shooting ranges as well as an indoor situation training room. Their Founders Room is available for event rentals as well. SEG also offers a dynamic variety of courses from beginner to advanced, that are held on a monthly basis. In addition, Silver Eagle Group carries an extensive retail section including firearms, ammunition, rentals, and accessories. Visit them online at http://www.silvereaglegroup.com. You can also follow them on Facebook at https://www.facebook.com/SilverEagleGroup.