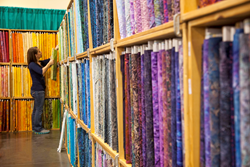 Lancaster, PA (PRWEB) February 06, 2015
American Quilter's Society, the largest quilting membership organization in the world, is pleased to announce the return of its popular AQS QuiltWeek event to Lancaster, PA. The event will run from March 11 to 14, 2015, at the Lancaster County Convention Center, 25 South Queen Street, Lancaster, PA 17603.
Fifteen thousand in attendance are expected to converge on the Lancaster area to enjoy four days of the best in international quilt and textile artistry. Nearly 500 quilts will be on display with more than $50,000 in prizes to be awarded for quilting excellence at the event. In addition, AQS QuiltWeek will be hosting a series of workshops with some of the top talent in the quilting industry and an extensive Merchant Mall comprised of both local and national vendors.
Included in AQS QuiltWeek's celebrated exhibits are the SAQA Wide Horizons IV exhibit, the Red, White & Quilted exhibit, selections from The WICKED™ Cherrywood Challenge, and two exhibits from The National Quilt Museum in Paducah, Kentucky.
The Stitch Like an Egyptian exhibit will also return, showcasing khayamiya art created using an ancient appliqué technique. All of the Stitch Like an Egyptian works will be available for purchase.
Evening events feature world-renowned celebrities presenting their unique spin on fabric, quilting, and life, including dynamic sessions with Jinny Beyer and Mary Lou Weidman. AQS Certified Quilt Appraisers will be available at the event to appraise new or antique quilts for insurance replacement or fair market values from 9:00 a.m. to 4:00 p.m. on Thursday and Friday and from 1:00 p.m. to 4:00 p.m. on Saturday. There is an appraisal fee of $50 per quilt, payable at quilt check-in.
Admission to AQS QuiltWeek includes access to all special exhibits and the Merchant Mall. Hours are from 9:00 a.m. to 6:00 p.m. Wednesday through Friday, March 11–13, and from 9:00 a.m. to 5:00 p.m. on Saturday, March 14. Ticket and additional information can be found at quiltweek.com or by calling 1-270-898-7903. This event is open to the public.
About the American Quilter's Society
The American Quilter's Society is the largest quilting membership organization in the world. For more than thirty years, AQS has been the leading voice in quilting through a broad suite of products, magazines, books, live events, contests, workshops, online networks, patterns, fabrics, and catalogs. At AQS, we believe that with inspiration and advice, the creatively minded individual can take their quilting projects beyond what even they had imagined. The leading authors in quilting choose to publish with AQS, the best in quilt artistry select AQS events to display their work, and the newest quilters learn from the knowledge and vision of AQS members. For more information about the American Quilter's Society, please visit http://www.americanquilter.com or call 1-270-898-7903.