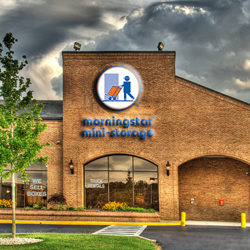 Charlotte, NC (PRWEB) February 09, 2015
Morningstar Properties announced today that it has acquired the first two storage facilities into its proprietary investment vehicle, Blue Doors Storage Fund II. The acquisitions add 135,000 square feet and 1,200 units to the company's portfolio that currently spans eight states. The new facilities are located in San Antonio, Texas, and Birmingham, Alabama.
Morningstar Mini-Storage of Babcock Road — located at 6366 Babcock Rd, San Antonio, Texas, 78240 — is the 4th San Antonio area location owned and operated by Morningstar and 9th in the state of Texas. It is proximal to both the USAA corporate campus and University of Texas San Antonio (UTSA) in addition to multiple in process and existing multi-family developments. The facility offers a range of climate controlled and standard units in sizes ideally suited to the single family, student or apartment customer, all of which will be served at this location.
Morningstar Mini-Storage of Mountain Brook — 1533 Montclair Rd, Birmingham, Alabama, 35210 — is Morningstar's first location in the Birmingham market and the state of Alabama. The converted grocery store, and 2011 Mini-Storage Messenger facility of the year winner, serves the Mountain Brook and Irondale neighborhoods and is located very closely to Trinity Medical Center. In addition to offering a wide range of heated and cooled unit sizes, the facility offers fully enclosed RV units and serves a wide spectrum of clientele with amenities ranging from work pods to an executive conference room.
"These acquisitions in Texas and Birmingham are an exciting way to kick off Blue Doors Storage Fund II," said Dave Benson, President of Morningstar Properties, LLC. "Our San Antonio acquisition builds our leverage and scale in a market where we have an existing presence and the Mountain Brook addition is a great beachhead, with a Class A location and facility, for our entry into the Birmingham market. We will continue to invest through acquisition and development in the top MSAs across the Sunbelt."
Morningstar acquired these properties through its self-managed, institutional investment vehicle, Blue Doors Storage Fund II, the follow on vehicle to Blue Doors Storage Fund I. With Blues Doors Storage Fund II, Morningstar plans to acquire and develop 35 properties over the next few years.
About Morningstar Properties: Morningstar Properties is a vertically integrated real estate developer, owner and operator of specialty real estate products focused primarily on self-storage and marinas in the Southeast United States. Since 1981, Morningstar has developed, acquired and operated over 125 self-storage projects across the country totaling in excess of 8.8 million square feet. Currently the company manages a network of 30 storage properties under the brand name of Morningstar Mini-Storage in eight states, mostly concentrated in the South. In addition to storage centers, Morningstar owns and operates 12 marinas across the Southeast and Great Lakes. The corporate headquarters are located in Charlotte, NC. The company's growth is funded through Blue Doors Storage Funds, Morningstar's private equity vehicles investing in the acquisition and development of self-storage centers.
# # #