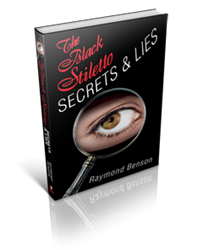 "Benson wraps up this five-book series in grand style with a satisfying climax, but as the title and final pages suggest, this may not be the end of the Black Stiletto. Escapist entertainment tinged with melancholy."—Booklist
Longboat Key, Florida (PRWEB) February 09, 2015
Raymond Benson, best known as the official author of the James Bond novels from 1996 to 2002, received the prestigious 2015 Lovey Award: Best Suspense Novel of 2014 for The Black Stiletto: Secrets & Lies. The novel is the fourth title in the popular Black Stiletto series which chronicles the adventures of the masked vigilante. While Benson does not give his Black Stiletto heroine "super" powers, she is expertly trained in Mixed Martial Arts (MMA) and possesses heightened senses. The author expertly moves between past and present, covering 1958 through 1962 referencing the heroine's diaries, to today, where Judy Talbot née Cooper AKA The Black Stiletto, diagnosed with Alzheimer's, resides in a nursing facility. Her son, Martin has stumbled upon the five diaries, and learns of his mother's past. He must now protect his mother while he assimilates the new information, and search for the father he has never known.
Humorous, sad, intense, and loaded with action, the Black Stiletto series is a wonderful noir adventure.
The Buzz about The Black Stiletto series...
"The appeal in this series-opener lies in the transformation of Judy Cooper into 'an international icon of feminist strength and power' who assumes near-mythic proportions. Prolific crime-fiction writer Benson captures the style of a young woman's diary and moves with ease between time periods in this comic book-like novel of nonstop action. Prime escapism."
—Booklist—Starred Review
"...this is a completely captivating and exciting suspense novel. Though it's brought to a satisfying conclusion, there are still enough unanswered questions for subsequent books, which is good since The Black Stiletto is the start of a thrilling new series."
—Freshfiction.com
"a mashup of the work of Gloria Steinem, Ian Fleming, and Mario Puzo, all under the editorship of Stan Lee."
—Library Journal
"Anyone who enjoyed Batgirl's adventures is going to love the Black Stiletto. A crusader for justice, she's not always fearless, but she's relentlessly driven to balance the scales. Benson's series third is a compelling story that scans back and forth over the course of 40 years, showing how each character is affected by a past that none has any control over."
—RT Reviews
"Reminiscent of heroes from the Golden Age of comics like the Black Canary and Lady Luck, thrill-seeking Judy makes an endearing protagonist."
—Publishers Weekly
"Old grudges and fresh starts set the tone in Benson's engaging fifth and final Black Stiletto novel (after The Black Stiletto: Secrets & Lies) as Judy Cooper's son, Martin Talbot, reads her last diary from her hidden life as a masked crime fighter. His daughter, Gina, means to know more about her superhero grandmother before Alzheimer's and old age win out, but the two have opened doors into the past that lead to deadly consequences. The Black Stiletto spent years in the world of private eyes and mobsters; the latter are not going to let her die in peace while there are still scores to settle. Gangster Leo Kelly already betrayed her, but his sister, Christina Kelly, proves to be truly vicious in the relentless hunt for revenge and for a diamond stolen years ago. Multiple points of view help enliven this daring woman's tale, leaving readers wishing for more. "
—Publishers Weekly
"Benson, a prolific author with more than 30 published books, is best known as the official James Bond 007 continuation author between 1996-2002. That superhero mentality continues with this excellent series; it could be a comic book with its nonstop action. Benson moves effortlessly from 1961 to the present and back, and gives readers a cultural look at life during the '60s. His cast of characters is outstanding, including the supporting cast. This fourth book of the five-book series reads well as a standalone, but readers may want to read the earlier books first. The fifth and final book is due out later this year."
—Mystery Scene Magazine
The Black Stiletto series is available in hardcover, eBook, paperback, and audiobook through Amazon.com, Barnes & Noble, Books-A-Million, Apple iBooks, KoboBooks.com, and your favorite independent bookseller. Ask for the series through your public library.