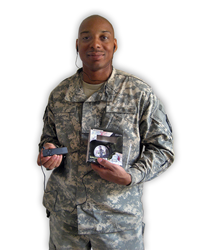 God's Word can be instrumental in helping with PTSD and other 'internal' wounds that our heroes come home with.
Albuquerque, N.M. (PRWEB) February 10, 2015
Faith Comes By Hearing (FCBH) began their Military BibleStick program in 2008 and today are announcing that more than 500,000 of these small, digital Audio Bibles have been provided free of charge to America's brave men and women in uniform. The ministry distributes the devices through active duty chaplains and chaplain assistants. To date, over 1,500 chaplains have requested BibleSticks and participated in the outreach.
With 180,000 new troops joining every year, and almost the same amount leaving active duty service, this represents about a 15% turnover each year. Also, when taking into consideration that the average troop age is 22 – a demographic that reads little, but is engaged through audio/visual stimuli regularly – it is no surprise that the demand remains high for the BibleStick.
In addition, chaplains regularly report that this younger generation of soldiers does not attend chapel or church services routinely. Rather, as a part of the millennials they seek a more personal and individual approach to their spiritual walk, making a portable Audio Bible an ideal fit for their lifestyle.
While the ministry has always given deployed troops the highest priority, they have recently seen an increase in requests from chaplains serving troops in VA hospitals, and they are committed to helping these veterans as well.
"We realize that treating a soldier's spiritual recovery is vital to their physical recovery," says Troy Carl, vice president of FCBH. "God's Word can be instrumental in helping with PTSD and other 'internal' wounds that our heroes come home with. As the Lord provides the resources, we're dedicated to delivering more units."
The ministry is able to provide the BibleSticks free of charge to chaplains as a result of generous individual donors and the collective giving of over 8,000 U.S. churches – across 120 denominations – that have graciously supported our troops with God's Word in audio; many of these congregations having done so on multiple occasions since 2008.
Established in 1972, Faith Comes By Hearing currently provides Scripture recordings in 868 languages spoken or signed by over 5.7 billion people globally. Through the Digital Bible Platform, FCBH offers free access to this digital collection of Scripture via podcasts, Internet radio, satellite TV and the Bible.is family of apps.