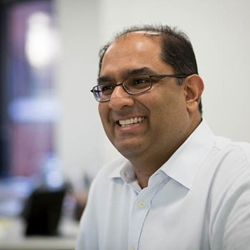 CHICAGO, IL (PRWEB) February 25, 2015
The Smart Cube, a global professional services firm specializing in custom research and analytics, today announced that Omer Abdullah, the company's Co-founder and Managing Director, is a 2015 Supply & Demand Chain Executive Magazine's "Pros to Know" Award winner. This marks the sixth consecutive year that The Smart Cube is among the list of individuals honored.
The Pros to Know Award recognizes executives that have implemented game-changing initiatives that are helping companies globally improve their supply chains so they can thrive in today's challenging business climate. The magazine's selection committee reviews hundreds of submissions and decides which executives stand out as the ones that have substantially helped their clients improve their supply chains, enhance processes and help uncover profitable opportunities.
"I am proud to share this award with our 500+ strong global team, who work side-by-side with some of the most talented and accomplished procurement and supply chain executives in the industry," said Omer Abdullah, The Smart Cube's Co-founder and Managing Director. "The Smart Cube team operates as a true extension of our clients' supply chain teams, leveraging industry-leading market research and analytics that help them develop strategies to address their challenges, drive efficiencies and improve profitability."
Expanded coverage of the full list of "Pros to Know" winners will appear in the print issue of the magazine due out in March, 2015. An online list will also be available at: http://www.SDCExec.com.
In addition to its Pros to Know Award honors for the past six years running, in 2014 The Smart Cube received a Best Service Provider Award from Procurement Leaders magazine. They have also been ranked #1 out of all knowledge process outsourcing (KPO) firms in a past survey produced by The Black Book of Outsourcing. The company was also among NASSCOM's 'Emerge 50 for 2010 in the off-shoring industry'. The Smart Cube has also been recognized in prior years by the Great Place to Work Institute as a top-three professional services employer in India.
About The Smart Cube
The Smart Cube is a global professional services firm that specializes in delivering custom research and analytics services to corporations, financial services and management consulting firms globally. The firm helps organizations make critical decisions across four key business areas: Procurement and Supply Chain; Strategy and Marketing; Financial Services; and Analytics. Founded in 2003, The Smart Cube has conducted more than 19,000 studies through its global network of analysts. The firm is headquartered in London and has professionals throughout Asia Pacific, the United States, Europe, and Latin America.
About Supply & Demand Chain Executive
Supply & Demand Chain Executive is the executive's user manual for successful supply and demand chain transformation, utilizing hard-hitting analysis, viewpoints and unbiased case studies to steer executives and supply management professionals through the complicated, yet critical, world of supply and demand chain enablement to gain competitive advantage. Visit us on the web at http://www.SDCExec.com.