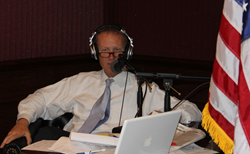 Tampa, FL (PRWEB) February 13, 2015
Prominent Clearwater criminal defense attorney Kevin Hayslett, of Carlson Meissner Hart & Hayslett P.A., has returned to the Tampa airwaves as the on-air legal commentator for "Kevins Law," a one-hour segment on Bubba the Love Sponge's new morning radio show, now airing on WHFS-98.7 FM. The "Kevins Law" segment, which originally debuted in 2011, airs on alternating Thursdays at 7:30 am EST.
In the returning segment, Hayslett takes questions from individuals in the Tampa Bay area via Twitter about criminal matters and offers commentary on the legal ramifications surrounding current news events. "So many people in the Tampa Bay area have questions about legal issues they or their family members are currently facing," said Hayslett. "Being able to provide general guidance and direct them down the right path helps them save time and resources and hopefully leads them to a successful resolution of their situation."
Hayslett, a well-recognized Florida criminal attorney who is best known as The Attorney to the Stars, is a partner in the law firm Carlson Meissner Hart & Hayslett. He has provided useful legal information and commentary to hundreds of thousands of listeners during his affiliation with Bubba the Love Sponge.
A topic Hayslett frequently addresses during "Kevins Law" is the expungement of criminal records. Hayslett is keenly aware that criminal records cause Florida residents to be blocked from jobs and schools and denied credit. He is skilled at providing a clear explanation of the steps to take to wipe one's criminal record clean and eliminate a criminal record as a barrier to a productive life.
For questions about expungement or other legal matters, listeners are encouraged to tweet their legal questions to @BTLSRadio or directly to Mr. Hayslett at @atty2thestars.