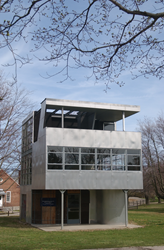 The Aluminaire House, once it is finally home here in Palm Springs, will be a year-round attraction that is perfectly in line with our thriving architectural tourism focus.
Palm Springs, CA (PRWEB) February 12, 2015
The Aluminaire House Foundation is pleased to announce that Mayor Steve Pougnet will host an event during Modernism Week that will benefit its project to relocate Albert Frey's 1931 Aluminaire House to Palm Springs. The event, "Mayor Steve Pougnet Invites You to 'An Evening for Aluminaire'," will take place on Sunday, February 15, 2015 at the iconic Tramway Gas Station (1965) by Frey and Chambers, which now serves as the Palm Springs Visitors Center.
When it was unveiled in New York City in April 1931, the starkly modern Aluminaire House was an overnight sensation that emboldened an architectural movement. Designed as a case study by architects A. Lawrence Kocher and Albert Frey, the three-story house, which was built in ten days, became the first all-metal prefabricated house in the United States. By locating the house in Palm Springs, where Frey lived and practiced from 1935 until his death in 1998, architecture enthusiasts from around the world will have a rare opportunity to view a complete timeline of his work, from 1931 to 1989.
"The Aluminaire House, once it is finally home here in Palm Springs, will be a year-round attraction that is perfectly in line with our thriving architectural tourism focus," explains Pougnet. "You are invited to celebrate the 1931 Aluminaire House coming to Palm Springs and to be a part of architecture history by supporting this worthwhile endeavor, which is destined to become a key cultural attraction in our re-developing downtown district."
The event is a fundraiser for Aluminaire House Foundation, the non-profit organization behind the project to move the house to Palm Springs. Led by Tracy Conrad, COO of Smoke Tree Ranch and owner of the O'Donnell House and the Willows Inn, and Mark Davis, Modernism Week Director and Treasurer, the Foundation plans to erect Aluminaire on land owned by the City of Palm Springs, directly across Museum Drive from the Palm Springs Art Museum.
The idea to relocate Aluminaire to Palm Springs began when two architects, Michael Schwarting and Frances Campani, who worked tirelessly to save it, came to Modernism Week last February. To an auditorium full of architectural enthusiasts, they presented their story about studying the home for more than 20 years, dismantling it once, reassembling it and then having to dismantle it yet again and put into storage, homeless. That day, an idea was hatched by a core group of 'believers,' Mark Davis, Tracy Conrad, Beth Edwards Harris, Brad Dunning and William Kopelk, who thought Palm Springs would make the perfect home.
"Aluminaire will become another treasured Albert Frey structure to grace our city and Palm Springs will be the internationally recognized home of Frey's entire career arc, from 1931 to 1989," exclaimed Davis. "I could not be more proud of our committee's efforts and vision, Mayor Pougnet's amazing support, and the enthusiasm shown by our community to welcome Aluminaire home."
Attendees will receive a limited edition, full-size commemorative poster specially created for the event by Gary Wexler Design. Those who become Friends of Aluminaire with a $250 contribution will be listed on the official website and recognized as appreciated underwriting sponsors for the evening.
The Aluminaire Foundation is a 501(c)3 non-profit registered in California and New York. For more information and to send a donation, please visit aluminaire.org.