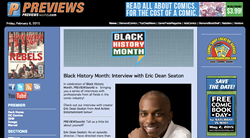 My director's eye and life experience makes the difference. People who work in comics all have a passion for the genre, they also bring their unique experiences to story telling and character creation...
Los Angeles, California (PRWEB) February 12, 2015
Television director Eric Dean Seaton was profiled by Diamond Comics Distributors through its PreviewsWorld.com website as a part of their focus on Black History Month. Seaton, a critically-acclaimed episodic director whose hits include NBC's Undateable, TBS's Ground Floor, Disney's Austin & Ally, That's So Raven and Nickelodeon's Belle and the Bulldogs, is also the creator of the Legend of the Mantamaji graphic novel series. PreviewsWorld.com talked with Seaton about what Black History Month means in the world of comics, how his TV background influenced his graphic novel series and the launch of the third book in the Legend of the Mantamaji series [available in comic book shops, Barnes & Noble bookstores, local libraries and online at Amazon.com, LegendoftheMantamaji.com and Comixology.com .
"I really believe we are in the industry at the right time," Seaton said. "Readers are not only vocal with their demands for diversity of storyline, characters and creators in the industry, they have proven outlets to reach the comic media through their blogs, podcasts and social media. And of course, advances in publishing technology have made it possible to create, publish and distribute works easier than ever."
The third book in the Legend of the Mantamaji series tells the story of Elijah Alexander, an Assistant D.A. who has learned that his childhood storybook legends are actually the true stories of his heritage and that he is the last of a race of mystical knights known as the Mantamaji. After realizing he's only part human, Elijah struggles with the shift in his world and becomes a hunted man charged with ridding the world of an ancient evil no other Mantamaji has ever been able to defeat. The full-color, action packed series has hair-raising plot twists and smart storytelling for all superhero fans.
The books feature artwork by Brandon Palas, colorist Andrew Dalhouse who has worked with From Boom, Dark Horse, Image, Marvel and DC and lettering by Deron Bennett, who was nominated for an Eisner Award for his work on titles like Jim Henson's Dark Crystal, Jim Henson's Tale of Sand and Helldorado, among others.
Praise for Legend of the Mantamaji:
"Standouts include female characters who are smart, strong warriors equal to the male characters in the book with no "a**-to-the-camera" poses, great pen work by Brandon Palas, coloring by Andrew Dalhouse of Boom!, D.C. and Marvel, and lettering by Eisner-nominated artist Deron Bennett." --Buzzfeed Community
"Fans who bemoan the 'big two' for a lack of vision, or effort, to create bold new characters and franchises, should learn that innovation can often be found elsewhere. 'Legend of the Mantamaji ' has all of the excitement, imagination and suspense to be a TV or film series on its own, but instead it is here as a comic to be enjoyed by the masses who crave them. 'Legend of the Mantamaji' volume one is a must read for those who crave all of the spectacle and action of superhero comics, yet want a comic which offers creative new ideas and a progressive storyline with real weight behind it," Alex Widen, Brooklyn Comic Book Examiner
"Legend of the Mantamaji is teevee director Eric Dean Seaton's (Sonny with a Chance, That's So Raven, Good Luck Charlie) first shot at writing comics, but this is clearly a professional storyteller with writing chops and a lifelong love of the medium, both of which are on full display here. I am not sure what I expected when I was invited to review Legends of the Mantamaji, but I can tell you I was definitely impressed by the quality world-building and storytelling." --GhettoManga.com
About Eric Dean Seaton:
As an episodic director, Eric Dean Seaton has directed 195 television episodes of 38 different shows, 18 music videos and two pilots for Nickelodeon, as well as two pilots for Disney XD. He has also directed episodes of the NBC/Warner Bros. comedy Undateable, TBS's Ground Floor, BETs Lets Stay Together and Reed Between the Lines. He is a Cleveland, Ohio native and attended The Ohio State University. Eric, his wife, son and daughter live in California. Legend of the Mantamaji is his first graphic novel series.
For Media Interview | Book Review Requests Contact: Terreece M. Clarke, (614) 467-0361 | Press(at)Mantamaji(dot)com or TClarke(at)LifeSliceMedia(dot)com | LegendoftheMantamaji.com