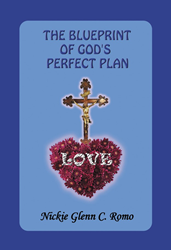 'This book gives a new and unique perspective on the Bible and the battle of good versus evil.' - Robert Fletcher, CEO of Strategic Book Publishing and Rights Agency
(PRWEB) February 16, 2015
For the plan of salvation was not conceived after the fall of man, but it was that which was kept in silence through times eternal, but now is manifested, and … made known unto all the nations. – Romans 16:25, 26, R.V. (TMK 366.3)
"The Blueprint of God's Perfect Plan" explains how the government of God began in heaven, the law being the foundation of His throne. It tells of the fall of Lucifer, the highest ranking angel who chose to rebel against the government of God, and was banished from heaven to become Satan, the Adversary of God.
According to the author, the government of God not only includes angels, but all creatures from other worlds. The plan of salvation was formulated by God to meet this terrible emergency and He was ready to face this problem even before humans existed. God in His justice with Satan let Adam and Eve be tempted and fallen, thus the history of fallen humanity began. Without God's interposition, all might have been lost forever without the sacrifice of His Son Jesus Christ.
The great controversy between Christ and Satan was manifested in the history of the Jews, and how this favored people of God rejected Jesus as the messiah. In this battle between good and evil, the character of God will be vindicated. This terrible experiment of rebellion will have an end.
Christ assured us that He will come again a second time to claim His people, and a new age will commence, free from sin. All will shout for joy, for the plan of salvation will have been accomplished and God will have won the battle.
About the Author: Nickie Glenn C. Romo lives in Manila. This is his first book.
THE BLUEPRINT OF GOD'S PERFECT PLAN: LOVE (ISBN: 978-1-62857-701-3, $15) can also be ordered through the publisher's website: http://sbprabooks.com/NickieGlennCRomo or at http://www.amazon.com or http://www.barnesandnoble.com.
WHOLESALERS: This book is distributed by Ingram Books and other wholesale distributors. Contact your representative with the ISBN for purchase. Wholesale purchase for retailers, universities, libraries, and other organizations is also available through the publisher; please email bookorder(at)sbpra(dot)net.