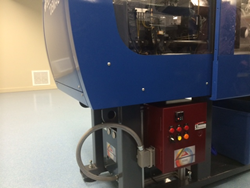 Richfield, WI (PRWEB) February 20, 2015
Growing demand for a smaller water circulating temperature control system got the wheels turning and the Engineers thinking at Delta T Systems. With a blueprint for success, the manufacturer of process temperature control equipment has announced a new product line.
The new Delta T Mini Series is a single zone, energy efficient water circulating temperature control system. Measuring 12"W x 20"D x 14"H, its miniature design saves valuable floor space—making it ideal for many tight industrial environments.
Taking advantage of its small footprint, the unit and its remote electrical box, can be positioned in convenient locations. Accumold Corporation, located in Ankeny, Iowa, known for their leadership in micro-molding, recently purchased a number of the Mini Water Circulating Units for use at their facility. The accompanying photos show that the "Mini" fits into the frame of the molding machine, and saves valuable floor space.
Like all of Delta T's water units, the "Mini" can control industrial process temperatures up to 250°F (121°C). Standard features offered by the unit include a microprocessor-based PID controller, rugged, heavy gauge sheet metal cabinet, stainless steel construction (piping, heater tank, and pump), horizontally-mounted pump for extended seal life, 4.5 KW heater, NEMA 1 electrical specifications and wiring in conformance with NEC electrical codes, and more.
Delta T Systems serves clients in a variety of industries, including plastics, food & beverage, pharmaceutical, chemical, rubber and printing.
About Delta T Systems
Delta T Systems, located in Richfield, WI, has dedicated itself to one single discipline, Process Temperature Control. Since 1990, Delta T Systems has helped production systems run more efficiently, thanks to their 160 years of combined experience, knowledge, and engineering know-how.
Known for being "The True Measure of Temperature Control" the company manufactures water and oil Temperature Control Equipment, Cooling Towers, Pump Tanks, as well as portable air and water Chillers. The full line of system solutions is available in many sizes to fit all process needs, with temperature control ranges from 20°F (-6.67°C) up to 650°F (343.33°C).
For more information please contact:
Delta T Systems
(262) 628-0331
Or visit: http://www.deltatsys.com