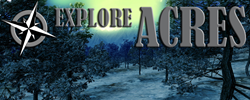 PC gamers can help make Acres a reality; shake up the industry!
Chicago, Illinois (PRWEB) February 17, 2015
The confidence of the team at BeerDog Studios has skyrocketed to the belief that they will be successful launching a Kickstarter campaign. Just the right kind of progress has been made and with the help of their loyal followers, bringing their PC adventure game 'Acres' one step closer to reality is beginning to become a dream come true.
Many tiers are available to those that would also like to see Acres come to fruition. Anyone who helps fund the campaign will have access to the Alpha version of Acres once it is completed in December 2015.
In order for BeerDog Studios to build the core game and get the Alpha to a solid playable state, the target of $200,000 has been set to complete this phase of development. The player will get access to the alpha as soon as it is ready at the end of this year. The alpha will only be available to Kickstarter backers.
There is something missing in the survival world of gaming. BeerDog's goal is to provide a PC adventure game which utilizes the concepts of crafting, building, and surviving, as well as utilizing strategy to ensure the survival of the player's creations. In the most comprehensive and realistic environments, your goal will be to not only build a city by gathering resources and placing your city buildings strategically, but also establish trade routes with friends and other players in the same world. Yes! Players will have the ability to play with their friends. Build cities in different environments so that resources that you dig for can be traded...because resources will be needed to be creative. Not only is there an emphasis on crafting, but building recipes can be created in order to place structures quickly once enough resources are required.
The Acres team formed over their love for gaming. Each of the 5 team members bring years of experience, working with games and projects in various stages of the development process. Acres started as just an idea, but while working part-time during nights and weekends the team has created the basic game structure, purchased the initial technology, and created solid design environments to bring this game to reality. See the progress that has been made through their Explore Acres blog (and bonus images below).
Join in on the mission to helping BeerDog Studios complete the playable Alpha version of 'Acres'.