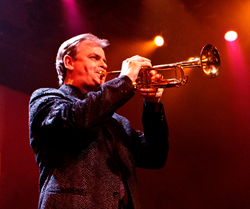 Jens takes seriously his responsibility as a respected role model for young players and never stops teaching, while at the same time amazing audiences with his brilliant, musical performances," said John Wittmann, Yamaha.
Indianapolis (PRWEB) February 13, 2015
His Excellency the Right Honourable David Johnston, Governor General of Canada, has announced that he has appointed trumpet master Jens Lindemann as a Member of the Order of Canada for his skill as a world-renowned soloist and for his support of Canadian musicians and music students. Membership in the Order of Canada, the country's highest civilian honor, recognizes outstanding achievement, dedication to the community and service to the nation.
"It is profoundly humbling to be recognized in this manner," said Lindemann. "This recognition only motivates me further to continue carrying the message of Canada internationally while always bringing the experiences back home to mentor other Canadians coming up."
Lindemann rose to international fame in 1992 when he won both the Prague and Ellsworth Smith (Florida) International Trumpet competitions, both by unanimous juries. Since then, he has been hailed as one of the most celebrated soloists in his instrument's history and was the first Canadian trumpet soloist to ever appear at Carnegie Hall with symphony orchestra.
Recently named "International Brass Personality of the Year" (Brass Herald), he has also played in every major concert venue in the world: from the Philharmonics of New York, Los Angeles, London, Berlin, Moscow and Tokyo and even the Great Wall of China. His career has ranged from being featured at the 2010 Olympics before an audience of 2 billion people, the NHL Stanley Cup finals, playing national anthems at both the Rose Bowl and for the San Francisco Giants, performing at London's Last Night of the Proms, recording with the Mormon Tabernacle Choir, playing lead trumpet with the renowned Canadian Brass and putting on a solo Command Performance for Her Majesty Queen Elizabeth II. He has also been nominated for Grammy and Juno awards and won the prestigious Echo Klassik in Germany and British Bandsman 2011 Solo CD of the year. He has also received several honorary doctorates.
Lindemann has achieved considerable critical acclaim around the globe: "he gave a sizzling, high energy performance in the American premiere of the Canadian trumpet concerto 'Dreaming of the Masters' at Carnegie Hall" (The New York Times); "a world-class talent" (The Los Angeles Times); "one of the most memorable recitals in International Trumpet Guild history"; (ITG), "performed brilliantly in the North American premiere of Bernd Alois Zimmermann's Concerto with the Toronto Symphony" (Toronto Star); and "he gave the virtuoso highlight of the evening with the Montreal Symphony" (Montreal Gazette).
"Jens Lindemann has been a Yamaha Performing Artist for more than 20 years," said John Wittmann, director, Artist Relations and Education, Yamaha Artist Services Indianapolis. "He has played an important and irreplaceable role as one of our most renowned ambassadors here in the United States and worldwide. It is our honor to support Jens as he travels, performs and inspires countless musicians exhibiting an endless, inexhaustible spirit of giving. Jens takes seriously his responsibility as a respected role model for young players and never stops teaching, while at the same time amazing audiences with his brilliant, musical performances."
Lindemann also joins the ranks of other esteemed Yamaha artists who have been awarded the Order of Canada, including Phil Nimmons (clarinet), Ian McDougall (trombone) and the late Oscar Peterson (Bösendorfer and Clavinova).
He performs on 24k gold-plated Yamaha trumpets, including the Artist Model Xeno and Custom Xeno models. In addition, Jens has been an instrument development artist on several new models, especially the YTR988 rotary piccolo trumpet.
For more information, please visit http://4wrd.it/JENSLINDEMANN.
About Yamaha
Yamaha Corporation of America (YCA) is one of the largest subsidiaries of Yamaha Corporation, Japan and offers a full line of award-winning musical instruments, sound reinforcement and home entertainment products to the U.S. market. Products include: Yamaha acoustic, digital and hybrid pianos, portable keyboards, guitars, acoustic and electronic drums, band and orchestral instruments, marching percussion products, synthesizers, professional digital and analog audio equipment, Steinberg recording products and Nexo commercial audio products, as well as AV receivers, amplifiers, Blu-ray/CD players, iPod docking systems, home-theater-in-a-box systems, earphones, headphones, sound bars, and its exclusive line of Digital Sound Projectors. YCA markets innovative, finely crafted technology and entertainment products and musical instruments targeted to the hobbyist, education, worship, professional music, installation and consumer markets.