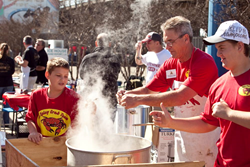 We're all very excited about what's shaping up to be a great turnout. -Amie Baham, Volunteers for Youth Justice
Shreveport, LA (PRWEB) February 16, 2015
The third annual Battle of the Gumbo Gladiators, a competitive gumbo cook-off and fundraiser benefiting Volunteers for Youth Justice, will be held in downtown Shreveport's Festival Plaza, 11 a.m.-6 p.m., Saturday, March 21. During the event, gumbo teams from throughout the region will compete for cash prizes and bragging rights in categories including seafood, non-seafood, people's choice and best team spirit. Amateur chefs, at-home cooks, restaurant teams and others who love to cook are invited to take part. Team registration is underway now through March 15 at http://www.gumbogladiators.com.
"Last year, we had 23 teams cooking 29 pots of gumbo. We're already up to 38 teams cooking 46 pots of gumbo for 2015, and registration is still underway," said Amie Baham, development director for Volunteers for Youth Justice. "We're all very excited about what's shaping up to be a great turnout."
Admission to the cook-off is free for the general public and gates open at 11 a.m. Gumbo samples may be purchased and those who purchase samples may cast votes for people's choice award categories. Gumbo tasting begins at 12 p.m. and winners in all categories will be announced at 3:30 p.m. Following the awards ceremony, there will be an after-party in Festival Plaza featuring food, drinks, music, vendor booths and more.
For more information on the third annual Battle of the Gumbo Gladiators, including a complete schedule of events, visit the event website at http://www.gumbogladiators.com. For more information on things to see and do in Shreveport-Bossier, visit http://www.sbfunguide.com.
About Volunteers for Youth Justice
Volunteers for Youth Justice (VYJ) is a volunteer-based, community supported non-profit organization whose mission is to provide a community caring for children, youth, and families in crisis. VYJ was established in 1981 by members of First Presbyterian Church of Shreveport, with the goal of providing intervention services to children involved in the juvenile justice system. VYJ currently administers three programs. Our CASA program relies on community volunteers to provide advocacy for child victims of abuse or neglect and who are involved in the juvenile court system through no fault of their own. Other programs provide developmentally appropriate, consequential and educational diversion services for first time juvenile offenders. YJ serves children of all ages, racial and socio-economic backgrounds throughout Northwest Louisiana.