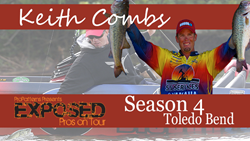 It's a great reference for people who want to look at those lakes and gain years of experience in a short amount of time.
Yankton, South Dakota (PRWEB) February 17, 2015
Combs, a native to Texas, has won the TTBC three times and broke the previous world record set in 2000 at Clear Lake, California by 26 pounds. It's no secret among his peers that Combs is tough to beat in Texas, the TTBC and an Elite event one week earlier on Toledo Bend both proved to be catalysts for his 2014 success and qualification for this week's upcoming Bassmaster Classic. Combs took time out of his schedule to speak with ProPatterns over the phone from South Carolina where he is awaiting the coveted Classic event to begin.
Exposed was privileged to film Combs in his first episode of Exposed at Toledo Bend, a fertile Texas border lake he has been fishing since age 13. Considered a strong contender to win at this year's 2015 Bassmaster Classic at Lake Hartwell, Combs discussed his planning and preparation with ProPatterns: "It really depends on the time of year and the lake, but I usually plan for tournaments weeks in advance. This early in the year, though, conditions rapidly change, and the fish change, so even when you do plan, you have to be prepared to take everything day by day."
Subsequently during his filming at Toledo Bend last year, the fish were in a post-spawn condition after a late winter with the weather and water rapidly changing. Throughout filming, the fish were constantly biting, but finding any trophy fish became a challenge. When asked if any particular moments stuck out during his day of filming, Combs said, "The five-and-a-half pounder I pulled in off a Carolina rig was definitely an exciting moment, but that sort of catch (during a practice day) didn't prove out during competition." During filming, Combs experimented with the Carolina rig, as well as crank bait and jerk bait and seemed to find a common denominator just inside grass bed edges, but the lake was so fertile that the smaller fish dominated the day. By the end of competition at Toledo Bend, Combs had placed in the money with a three day haul of 48.14 pounds.
Season 4 of Exposed, the one-of-a-kind online video series that follows Elite anglers during practice days leading up to competition, followed Brandon Palaniuk, Chad Morgenthaler, and Brian Snowden for its first three episodes as they spent their days eliminating water on Table Rock Lake. Keith Combs breaks that pattern by taking Exposed to Toledo Bend, a big lake with a lot of good water and many patterns. All four of these first Season 4 anglers will be vying for the Classic title this week as a result of their 2014 success.
With so much good water, the challenge became finding the bigger fish among so many biting smaller fish. When asked the secret to world-record fishing, Combs said, "The big thing for me in those big tournaments is to take big risks and go deep. The shallow patterns are easy, but if you take the risk of going deep you may do really well…or you may not have any success at all."
When asked about his experiences with Exposed, not only as a pro who has watched the series, but also as a pro who has filmed with the Exposed crew, Combs said, "Exposed is cool show, especially for anybody going out club fishing or anybody who wants to hit any of these lakes on a recreational trip. It's a great reference for people who want to look at those lakes and gain years of experience in a short amount of time. I've been fishing Toledo Bend since I was 13, and it's taken me years to learn that lake. With Exposed, you get that wealth of information in a short period of time. There's no other resource like this you can find anywhere else online."
In honor of the Bassmaster Classic, which opens on Feb. 19th, ProPatterns has partnered with Profound Outdoors for a giveaway that includes a $750 grand prize and two $250 prizes. Visit http://www.ProPatterns.com at the Classic to learn more about the giveaway, about ProPatterns and Profound Outdoors bundled deals, as well as the Exposed series and all other ProPatterns membership offerings.