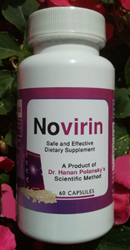 The CBCD agrees with Dr. Mao's recommendations, but also recommends that individuals infected with a latent virus, such as herpes, HPV, EBV, CMV, or HCV, take Novirin. - Greg Bennett, CBCD
Rochester, NY (PRWEB) February 19, 2015
"Infected with a latent virus such as herpes, HPV, EBV, CMV, or HCV? The CBCD, which conducted two separate post-marketing clinical studies on the natural, antiviral formula of Novirin, recommends taking this effective remedy to help the immune system target latent viruses in the body." - Greg Bennett, CBCD
According to Dr. Mao Shing Ni, acupressure is like a "button" that turns on the immune system. Acupressure is a traditional Chinese medicine bodywork technique based on the same ideas as acupuncture. It is based on the concept of life energy which flows through "meridians" in the body. Dr. Mao wrote that "A practice handed down over thousands of years; acupressure was first mentioned in writing in 'The Yellow Emperor's Classic of Medicine,' the oldest medical book in the world. It involves warming an acupoint on the leg with the herb mugwort to stimulate the immune system. In this procedure, the practitioner rolls leaves of mugwort into a cigar shape, lights the roll, and holds the smoldering end near the acupoint. However, the same result can simply be achieved by applying firm, steady finger pressure. The point is found on both legs, about four finger-widths below the outside indentation of the knee next to the shin bone. Modern research in China confirms the efficacy of this treatment for improving immune function and preventing colds, flu, and infections." (1) Dr. Mao has been featured on the Ricki Lake Show, Dr. Oz, and contributes to Yahoo Health and The Huffington Post. He is a bestselling author, doctor of Oriental Medicine and board certified anti-aging expert.
The CBCD points out that some in the medical community reject the positive effects of acupressure on the immune system, such as those described by Dr. Mao. For example, sciencebasedmedicine.org had this to say about acupressure: "after decades of research and more than 3000 trials, acupuncture researchers have failed to reject the null hypothesis, and any remaining possible specific effect from acupuncture is so tiny as to be clinically insignificant. In layman's terms, acupuncture does not work - for anything." (See Science - Based Medicine, from June 2013) (2)
The CBCD points out that while some scientists may reject alternative medicine, or Chinese medicine, there is evidence to show that many people believe alternative medicine (also known as Complimentary and Alternative Medicine, or CAM) has many benefits, and does in fact "work." The National Institutes of Health, the most important medical research organization in the world, financed by the American government recognized the value of CAM and decided to dedicate an institute specifically for this type of medicine because "The widespread use of complementary and alternative medicine (CAM) is of major importance to today's health care consumers, practitioners, researchers, and policy makers." (See the Institute of Medicine (US) Committee on the Use of Complementary and Alternative Medicine by the American Public, from 2005) (3)
According to the CAM Instituted at the NIH, "In the United States, approximately 38 percent of adults (about 4 in 10) and approximately 12 percent of children (about 1 in 9) are using some form of CAM." (See the National Center for Complimentary and Alternative Medicine, from December 2008) (3). In addition, it's important to emphasize that those who use natural remedies are normal, everyday Americans, well educated, with high income. "People of all backgrounds use CAM. However, CAM use among adults is greater among women and those with higher levels of education and higher incomes." (4)
The CBCD believes in a positive blend of CAM and traditional, Westernmedicine. For instance, the product Novirin has an all natural, antiviral formula that was designed to help boost the immune system, and help target latent viruses. The Novirin formula is set apart from most natural products, however, because it also has two clinical studies, which found that it reduced symptoms associated with several common viruses.
Click to learn more about Novirin.
The formula of Novirin was tested by Hanan Polansky and Edan Itzkovitz from the CBCD in two clinical studies that followed FDA guidelines. The studies showed that the Novirin formula is effective against the herpes simplex family of viruses, which includes VZV. The clinical studies were published in the peer reviewed, medical journal Pharmacology & Pharmacy, the first, in a special edition on Advances in Antiviral Drugs. Study authors wrote that, "individuals infected with the (HSV-1) … reported a safe decrease in their symptoms following treatment…" (5) The study authors also wrote that, "we observed a statistically significant decrease in the severity, duration, and frequency of symptoms." (5)
Novirin can be ordered online through the product website, here: http://www.novirin.com
Novirin is a natural antiviral dietary supplement. Its formula contains five natural ingredients: Selenium, Camellia Sinesis Extract, Quercetin, Cinnamomum Extract, and Licorice Extract. The first ingredient is a trace element, and the other four are plant extracts. Each ingredient and its dose was chosen through a scientific approach. Scientists at polyDNA, the company that invented and patented the formula, scanned thousands of scientific and medical papers published in various medical and scientific journals, and identified the safest and most effective natural ingredients against latent viruses. To date, Novirin is the only natural antiviral product on the market with published clinical studies that support its claims.
When it comes to boosting the efficiency of the immune system, Dr. Mao recommends, that in addition to acupressure, people should "maintain a positive attitude." (1) He also recommends that individuals "eat lots of garlic, ginger, cilantro, oregano, and other herbs and spices, get enough rest - eight hours a night (and) keep stress low with meditation, tai chi, or yoga." (1)
The CBCD agrees with these recommendations, but also recommends that individuals infected with a latent virus, such as herpes, HPV, EBV, CMV, or HCV, take Novirin.
Interested individuals can view the studies published on the antiviral formula of Novirin here:http://www.scirp.org/journal/PaperInformation.aspx?PaperID=36101#.VNc8leaUf90 and http://www.scirp.org/journal/PaperInformation.aspx?PaperID=44234
All orders of Novirin are completely confidential, and no information is shared or sold to any third party. Privacy is assured.
References:
(1) Mao, Shing Ni "Boosting The Immune System: The Cold & Flu Season." Santa Monica Mirror. Published on February 15, 2015.
http://www.smmirror.com/articles/Health/Boosting-The-Immune-System-The-Cold--Flu-Season/42671
(2) Institute of Medicine (US) Committee on the Use of Complementary and Alternative Medicine by the American Public. "Complementary and Alternative Medicine in the United States." Published in 2005.
http://www.ncbi.nlm.nih.gov/books/NBK83804/
(3) Novella, S. "Acupuncture Doesn't Work." Science-Based Medicine. Published on June 19, 2013.
http://www.sciencebasedmedicine.org/acupuncture-doesnt-work/
(4) National Center for Complimentary and Alternative Medicine (NCCAM) - The Use of Complimentary and Alternative Medicine in the United States. Published in December 2008.
https://nccih.nih.gov/news/camstats/2007/camsurvey_fs1.htm
(5) Polansky, H. Itzkovitz, E. Gene-Eden-VIR Is Antiviral: Results of a Post Marketing Clinical Study. Published in September 2013. http://www.scirp.org/journal/PaperInformation.aspx?PaperID=36101#.VNsjjuaUf90