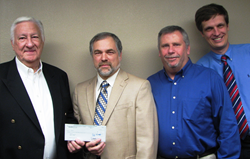 Its track record of innovative product development, long-term commitment to the environment, and superb quality and customer service make me confident that Pak-Sher will continue to grow and grow green.
Kilgore, Texas (PRWEB) February 18, 2015
Pak-Sher, a manufacturer of plastic take-out bags, food storage bags, deli-bags and food-handling products, successfully completed an economic development performance agreement in Kilgore, Texas, investing more than $1,327,000 and retaining 169 jobs over a period of three years.
Kilgore Economic Development Corporation reimbursed the company $17,693 each of the three years for a total incentive of $53,080.
In addition, the company announced the appointment of Troy Fischer as Pak-Sher' s new president.
Troy comes to Pak-Sher from Henry Wurst, Inc. where he managed several departments and was the resident process improvement guru. Troy led multiple process improvement initiatives across multiple divisions of the company, including a ground breaking workflow automation process for Xerox that became a case study in Real Business Magazine.
"Troy brings important leadership and technical skills to Pak-Sher, along with a creative and entrepreneurial mind-set that will serve us well. His low key, but results driven personality will fit in well with Pak-Sher's culture," said Herbert Stern, Chairman of the Board. "His expertise in Operations and innovative process improvement will help Pak-Sher leverage our manufacturing expertise to a whole new level. We are extremely pleased to have someone with Troy's strong leadership skills on board."
"I am very excited about the opportunity to serve as Pak-Sher's leader," said Fischer. "Pak-Sher's values are a great fit with my own, and its track record of innovative product development, long-term commitment to the environment, and superb quality and customer service make me confident that, with the solid management team that is in place, Pak-Sher will continue to grow, grow green, and explore new market opportunities."
In addition to Troy's work at Henry Wurst, he was the founder and CEO of On Target Marketing LLC, a mass mailing operation which grew to be the largest mailing services company in Colorado. From On Target Marketing, Troy brings expertise in printing and converting, as well as Sales and Marketing. He also held positions at Data National Corporation in Sales and Operations, and served in the U.S. Air Force. Troy has an MBA from Colorado State University.
For more information about Pak-Sher, visit http://www.paksher.com.
About Pak-Sher: Pak-Sher has been an innovator in the design and manufacture of carryout and kitchen prep packaging for the food service industry since the early 1970's. Pak-Sher invented many of the packaging products used throughout the restaurant, deli and grocery industry today. Pop-up Quicksheets® were originally developed for service delis and are currently used by tens of thousands of restaurants and grocery stores nationwide. More recently, Pak-Sher designed the easy on-off food handling Sher-Mitt® which is now being recommended by local health departments to minimize potential cross-contamination in kitchens. Today, Pak-Sher has taken the lead in sustainability, developing a complete line of fully compostable plastic packaging, continuing to innovate with new sustainable resin alternatives, and working with local schools to collect and recycle plastic grocery bags.
About Kilgore EDC: Kilgore Economic Development Corp. in Kilgore, Texas, is funded by a dedicated local sales tax specifically to aid expanding and relocating companies. In the last year KEDC staff worked projects that represent almost $20 million investment and more than 500 jobs. KEDC is directed by a five-person board and managed by a staff of four with certifications in business retention and expansion, economic and community development and economic development finance. KEDC has won international awards for excellence in economic development.