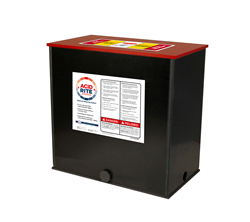 With pending FDA regulations on poultry parts coming into play, this is a practical approach to meeting pathogen intervention standards without affecting yields
Atlanta, GA (PRWEB) February 18, 2015
SES Food Safety Specialists announces the addition of the new Acid-Rite water pH balancing system to its line of poultry pathogen intervention products. The Acid-Rite® system is a product of Axiall Corporation's Water Treatment Products, which provides water treatment bacteriological solutions based on its pioneering tablet-erosion technology.
The Acid-Rite system is designed to replace bulky liquid acid totes and drums in poultry, red meat and pork processing plants. With a small footprint (measuring 24" L x 13" W x 24" H), units can easily be integrated into existing processing lines with minimal engineering. The system is operated using proprietary Acid-Rite sodium bisulfate tablets. This delivery method eliminates splash hazards, bulk handling, and concerns over special storage for citric acid to prevent freezing in areas subject to extreme cold.
"We see Acid-Rite as a key component of our more complete pathogen intervention approach," said Neal Standford, president of SES Food Safety Specialists. SES has designed a delivery method that integrates both Acid-Rite and Axiall's Accu-Tab® calcium hypochlorite-based tablet system into a compact platform. This gives processors the ability to produce a highly effective hypochlorous acid solution to kill bacteria on contact. "With pending FDA regulations on poultry parts coming into play, this is a practical approach to meeting pathogen intervention standards without affecting yields," said Stanford.
About Axiall
Axiall Corporation is a leading integrated chemicals and building products company. Headquartered in Atlanta, Axiall has manufacturing facilities located throughout North America and in Asia to provide industry-leading materials and services to customers. For more information, visit http://www.axiall.com.
About SES Food Safety Specialists
SES is SES (Southeastern Systems, Inc.) Food Safety Specialists provide custom engineered systems that chlorinate wash water at multiple points in the food process to kill bacteria. Since 1990, SES has been designing industrial water chlorination systems using Accu-Tab® system technology from Axiall Corporation.