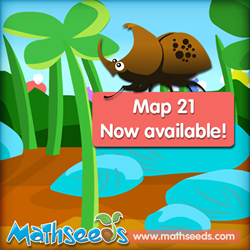 (PRWEB) February 18, 2015
The creators of Mathseeds, an interactive online learning program designed for children aged 3-6, are continuing to expand their popular math program with an additional 5 new math lessons.
With the program's latest release of Map 21, the 5 additional lessons are designed to help children continue developing number sense, identifying and counting larger numbers up to 500, and using partitioning and place value.
The Mathseeds program is developed by the same team of publishers behind the multi-award winning online reading program, Reading Eggs. The program is designed to teach children essential early math and problem solving skills to prepare them for their first years of school.
Mathseeds now contains 105 math lessons, including activities, songs, animations, e-books and rewards.
Parents are able to access a dashboard to track their child's progress and download ongoing reports.
"I've been using Mathseeds with my four-year-old for three months now, and she loves it," says Suzy, a Mathseeds user and mother.
"She's always loved playing on the iPad so it is just like a game to her. Now she is able to recognize shapes, and she really looks forward to earning the rewards. She starts school next year and I think she will be ahead of her class thanks to Mathseeds."
Mathseeds is compatible with PC, Mac, and iPad and Android devices. You can access directly via the Mathseeds website through your browser or by downloading the Reading Eggs Student app for the iPad. For more information on compatibility, please visit http://www.mathseeds.com/about/faqs/.
New users can start a free 2-week trial of Mathseeds by registering at http://www.mathseeds.com.
More information is available at http://www.mathseeds.com or by emailing info(at)mathseeds(dot)com.
About Reading Eggs
Developed by educators with over 30 years of experience, Reading Eggs online lessons instruct children in the five areas crucial to literacy development – phonemic awareness, phonics, vocabulary, fluency and comprehension. Reading Eggs focuses on a core reading curriculum of skills and strategies essential for sustained reading success and is suitable for children aged 3 through 13. Since launching in the United States and Canada in 2011, Reading Eggs has signed on more than 500,000 subscribers and presented more than 15 million lessons in North America. Currently 1.4 million children use the Reading Eggs program in the United States.