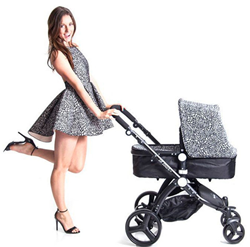 'Becoming a mom doesn't mean sacrificing unique personal style for utility.'
Brooklyn, NY (PRWEB) February 18, 2015
Becoming a mom doesn't mean sacrificing unique personal style for utility. Babyroues is unveiling its brand-new Mommy & Me Matching Stroller, a Letour Stroller that can be custom designed with the fabric of your choice to reflect mom's personal style.
The days of the boring black stroller are officially over. Supply 2 yards of a favorite fabric and Babyroues will create a custom canopy/foot cover set with the choice of black or silver stroller frame.
The Babyroues Letour Stroller System swathes baby from infancy through toddler in complete luxury. The lightweight system includes a deluxe and roomy bassinet and stroller perched atop a sturdy aluminum frame. With dual-facing capability, its innovative folding mechanism allows for the bassinet and stroller to fold while remaining attached to the stroller. The highest quality bassinet mattress with four position-reclining stroller, five point stroller safety harness, and contoured weather cover for stroller and bassinet will ensure that your baby is safe, cozy and well protected from the elements. The newest technological front and rear suspension system, 10.5" and 6.5" rear and front wheels and three position handle height will ensure ease of maneuverability and the smoothest ride for your baby. The stroller also includes a large basket for all of baby's essentials.
For more information on the Mommy & Me Stroller System as well as other Babyroues offerings, please visit babyroues.com
Follow Babyroues on Facebook, Twitter and Instagram.
ABOUT BABYROUES
Founded in 2012, Babyroues is dedicated to excellence. We seek to innovate with the highest technological advances for mom's and baby's comfort, while at the same time giving our customers great value. With more than 30 years of experience in the manufacture of baby strollers, we always look forward to newer innovations in meeting our customers' needs.