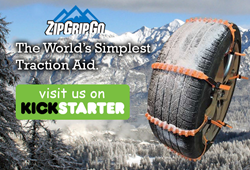 Inventor Mike Curry said "I wanted to take away the driver's fear of being in bad weather, of not knowing whether they're going to make it. This is a product I wanted my wife, my mother, or my daughter to have. It's a safety net for the average person."
Hackensack, N.J. (PRWEB) February 18, 2015
ZipGripGo, LLC. announces the launch of its low-cost vehicle traction solution on crowd funding portal Kickstarter.com. Effective on snow, ice or mud; ZipGripGo can be added to the wheels of most any passenger car in minutes, without tools, instantly freeing stuck vehicles.
Inventor Mike Curry said "I wanted to take away the driver's fear of being in bad weather, of not knowing whether they're going to make it. This is a product I wanted my wife, my mother, or my daughter to have. It's a safety net for the average person."
Using the same basic technology that makes zip ties so convenient, the patented ZipGripGo emergency traction aid kit contains 12 robust straps made of a proprietary nylon compound that remains strong even in extreme temperatures. To free a stuck car, all a motorist has to do is loop several straps through each of the vehicle's drive wheels across the surface of the tire, then zip them tight by hand. With ZipGripGo in place, the tire's tread surface is temporarily enhanced with stout double-tiered nylon cleats that can bite into snow, ice or mud, giving ample traction even in the worst conditions.
"Unlike traditional chains, ZipGripGo can be installed without tools on a vehicle that's already stuck, even if there's only partial access to the wheels. It takes just a few minutes to get the ZipGripGo straps in place, after which a driver can get back underway using the car's own power eliminating the cost and wait of a traditional tow." said Curry. Once the vehicle is safely clear of the slippery surface, the ZipGripGo straps come off in seconds with a simple snip from any cutting tool, and normal driving can resume.
ZipGripGo can be easily stored in the trunk or cargo area of any vehicle, ready to come to the rescue in an emergency without taking up bulky space. Unlike size-specific chains, ZipGripGo's cinching mechanism is compatible with wheels and tires of all shapes and sizes, so they're ready for action on any family car, truck or SUV.
ZipGripGo was a hit at the 2013 SEMA show in Las Vegas and has secured multiple innovation and invention awards since its unveiling, including the coveted Popular Mechanics Editor's Choice award. ZipGripGo is bringing emergency traction to the masses via a Kickstarter campaign now through March 14.
Visit https://www.kickstarter.com/projects/872387109/zipgripgo-alternative-traction-aid-for-snow-and-mu or search "ZipGripGo" on kickstarter.com to learn more.
####
Contact: Barry Schwartz
855-947-4477
barry(at)zipgripgo(dot)com
VIDEO at http://www.zipgripgo.com