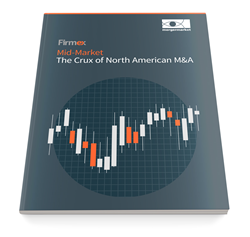 In 2014 the North American Middle Market attracted significant investor interest, and it looks to continue as a hotbed for deal activity in 2015 - Joel Lessem, CEO of Firmex
TORONTO (PRWEB) February 20, 2015
Future North American dealmaking activity is ripe for expansion in the region's mid-market M&A segment, providing new opportunities that were once wiped away during the financial crisis, according to the study Mid-Market: The Crux of North American M&A.
Firmex data rooms, in partnership with Mergermarket, surveyed 50 senior M&A practitioners and industry experts based in the US and Canada to analyze the key trends in mid-market M&A dealmaking. Private equity firms have proved more active in this segment as firms have set their sights on smaller firms demonstrating growth potential while cross-border deal flow continues to increase with firms actively seeking targets in overseas markets.
An overall increase in dealmaking activity does come with a few headwinds that are particularly unique to transacting in the mid-market range. Competition from larger firms continues to serve as a constant source of friction for mid-market firms as is their lack of experience to engage in acquisition-related activities.
"In 2014 the North American Middle Market attracted significant investor interest, and it looks to continue as a hotbed for deal activity in 2015," said Joel Lessem, CEO of Firmex.
Respondents to this survey remain confident that the good outweigh the bad. Eighty-eight percent of respondents expect mid-market M&A to rise in the next 12 months in both the US and Canada, while a smaller percentage (12%) believe the level of dealmaking will remain stagnant for each country. Driving this increase in activity are companies trying to reach growth targets, according to 38% of respondents, followed by non-core divestitures (32%).
Click here to view the results and download the full PDF.
Firmex
Thousands of companies choose Firmex Virtual Data Room (VDR) solutions to securely share their highly confidential documents. Leaders in corporate and financial transactions, M&A, compliance, litigation, and procurement value Firmex's ease of use and outstanding support to profitably accelerate their online document sharing and collaboration projects. Visit us at http://www.firmex.com.
Mergermarket
Mergermarket, part of The Mergermarket Group, is an unparalleled, independent M&A intelligence tool used by the world's foremost financial institutions to originate deals. It provides proprietary intelligence on potential deal flow, potential mandates and valuations via the world's largest group of M&A journalists and analysts who have direct access to the most senior decision-makers and corporates. The Mergermarket Group has over 450 employees worldwide and regional head offices in New York, London and Hong Kong. More information about Mergermarket can be found at http://www.mergermarket.com.
Mark Wright
VP, Global Marketing
Firmex
mwright(at)firmex(dot)com