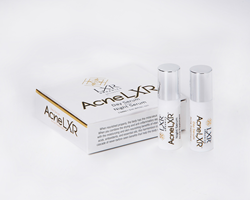 "It's fantastic to have LXR Organics featured among the top skincare and luxury items handed out as gifts to the stars at the Oscar awards ceremony this year." CEO & Founder Kyle Craichy
Orlando, Florida (PRWEB) February 19, 2015
Revolutionary new acne skin care product AcneLXR Day and Night Serum from LXR Organics will be among the top skincare products featured in the 2015 Oscar Gift Bags handed out to hundreds of celebrities this weekend at the awards ceremony in Hollywood along with Face It: Winning the War on Acne!, the new book from LXR Organics CEO & entrepreneur Kyle Craichy.
LXR Organics is the amazing natural acne skincare treatment embraced by the medical community that was developed by young Florida entrepreneur Kyle Craichy when he was 20 years old after struggling with his own severe acne as a teenager. After finding no solutions, Craichy developed his own treatment that works. LXR Organics partnered with Wow! Creations Media of Los Angeles to get their products included in the Oscar awards swag gift bag this year.
"It's fantastic to have LXR Organics featured among the top skincare and luxury items handed out as gifts to the stars at the Oscar awards ceremony this year," says CEO & Founder Kyle Craichy. "The actors and celebrities will have the opportunity to try it and see results firsthand. Plus, I hope my story will provide some inspiration."
For more information on LXR Organics and Kyle Craichy's new book, Face It: Winning the War on Acne! visit http://www.lxrorganics.com. For more information on Wow! Creations Media's celebrity gifting visit http://www.wowcreationsmedia.com.
Social Media Links: http://www.twitter.com/lxrorganics / http://www.facebook.com/lxrorganics/
To arrange press interviews with the Kyle Craichy, contact Publicist Liz Motley at (615) 574-3398 or LizMotley(at)me.com.