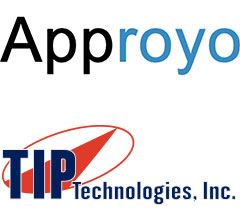 (PRWEB) February 19, 2015
Approyo and TIP Technologies are proud to announce a new strategic partnership creating a collaborative solution for Discrete Manufacturing organizations deploying SAP ERP and Supply Chain Management solutions. The newly formed alliance provides a focused QMS/SFE solution and delivers an immediate measurable ROI. TIPQA™, a well-established solution, is implemented around the world supporting Aerospace and Defense, Medical Device, and Automotive manufacturing organizations. The partnership will allow both companies to offer TIPQA™ within a state-of-the-art SAP ecosystem.
"The partnership with TIP Technologies allows us to enhance our solution offering," said Marcus Retrac, President of Approyo. "TIPQA™ is a great complement to our industry leading SAP HANA solutions, and we are proud to be able to extend our partnership and offer this significant benefit to our customers."
"Our partnership with Approyo continues to keep us at the forefront of the market with a versatile offering that provides clients an integrated, best-in-breed solution for streamlining shop floor and quality operations, while delivering a new standard for measuring quality," said Mike Miller, CEO and Founder of TIP Technologies. "We believe this collaboration is a perfect fit for our customers who operate within the SAP ecosystem, and will empower customers with the tools they need to deliver quality products and advance in today's competitive market."
Customers are already seeing the benefit of this new partnership. TIPQA™ is off-the-shelf quality assurance software that is scalable and highly configurable. With Approyo's focus on the SAP ecosystem, and the certified interface for SAP, the solution can be configured for each organization to meet specific requirements supporting other business systems.
"The implementation of the latest TIPQA™ software with the SAP Certified Interface has significantly impacted our manufacturing processes at Labinal Power Systems by reducing duplicate entry in our receiving inspection process," said Craig Parker, Quality Administrator. "Initial improvements indicate a projected 25% decrease in receiving inspection flow time, which will provide an exceptional return to our organization."
About TIP Technologies
TIP Technologies was a pioneer and continues to be the recognized leader in quality assurance software. Founded in 1989, the company was one of the first to provide integrated quality assurance software using a commercial, off-the-shelf strategy. With companies around the world, continuously and successfully deploying TIPQA™, TIP Technologies focuses on serving the needs of companies in regulated discrete manufacturing industries. We don't just create quality assurance software. When it comes to compliance, traceability and global supplier management , we deliver peace of mind. TIP Technologies is headquartered in Milwaukee, WI, with additional operations representing EMEA (Europe, Middle East, Africa) APAC (Asia, Pacific, China), and North America. For more information please visit http://www.tiptech.com or contact us at (844) 847-8324 (844-TIPTECH).
About Approyo
Approyo is a global SAP HANA start up focus partner for products and services that include upgrades, comprehensive remote operations/managed services, consulting, hosting and implementations and cloud services. Approyo differentiates itself by offering scalable managed SAP Hana solutions for organizations of all size. Headquartered in Palo Alto, CA with partner offices around the world, Approyo has the capability to support global organizations and their applications. For additional information e-mail us at info(at)Approyo(dot)com, call 404.448.1166, or visit us on the web at http://www.Approyo.com.