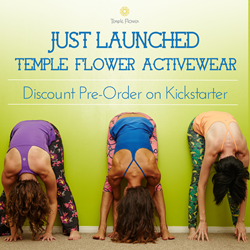 Temple Flower launches activewear line with Kickstarter. My Body. My Temple. Make it Beautiful.
Los Angeles, CA (PRWEB) February 19, 2015
Temple Flower, a new luxury active wear line out of Los Angeles, launches their apparel with a pre-order on Kickstarter (http://Bit.ly/tfkickstarter). The pre-order Kickstarter campaign will last for 30 days and then the apparel will be available for sale online at http://www.temple-flower.com.
Temple Flower is a yoga- focused modern athletic wear line created by husband and wife team Neesha Sodha and Neetin Bhagat. Temple Flower creates apparel that reflects our colorful souls with vibrant designs inspired by the colors and art of India. Sodha and Bhagat created the patterns and colors with the idea of reflecting the beauty of nature in the clothing. They are dedicated to using the highest quality performance fabrics and keeping production entirely in Los Angeles. The brand's tagline is: "My Body. My Temple. Make It Beautiful."
Temple Flower is also announcing their philanthropic partnership with The Barefoot College (Rajasthan, India), an organization that helps rural communities become self-sufficient and sustainable. Barefoot College primarily teaches women from poor villages skills such as building and repairing solar lamps and water pumps that they take back to their village. With this unique partnership, Temple Flower is empowering and uplifting these rural women and villages by donating a portion of every sale to The Barefoot College.
Temple Flower partnered with The Shelia Kar Health Foundation for a star-studded launch party on Friday, Feb. 13th at The Regent Beverly Wilshire in Los Angeles.
Temple Flower's goal is to raise $20,000 on the crowd-funding platform, Kickstarter, in order to move to production. The Kickstarter campaign rewards include discounted prices on the instagram-favorite colorful leggings, crop pants, shirts decorated with the heart chakra along with bigger rewards including a yoga retreat on the beaches of California or a trip to India to visit The Barefoot College.
MORE INFO at: http://Bit.ly/tfkickstarter
Facebook: http://www.facebook.com/templeflowerapparel
Instagram: http://www.instagram.com/temple_flower
Twitter: http://www.twitter.com/Temple_Flower