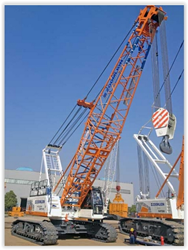 Houston, TX (PRWEB) February 19, 2015
The new 2015 Zoomlion ZCC1100H is in stock and available to ship now from Global Cranes' Houston headquarters. The ZCC1100H is a 110-ton capacity crawler, with a 200 foot main boom, and a 59 foot fixed jib.
Like the Zoomlion RT Rough Terrain line, the Zoomlion ZCC Crawler line, was designed in the United States with world–class components, including a Hirschmann LMI system, Zollern free-fall winches, and Cummins Tier 3 diesel engine. It is sold exclusively in the U.S. by Global Cranes. Global debuted the inaugural model at CONEXPO last year.
The feature that is drawing the most attention is that the Zoomlion ZCC1100H is able to strip down to under 12' and 100,000 pounds for easy transport wherever the crane is needed. At its weight, a first for a crawler this size, only low level permits are needed, allowing it to be transported more quickly and cheaply.
Another one of the features that sets it apart is an optional third auxiliary winch, which allows it to complete more simultaneous tasks, making its use more flexible. The optional third drum is available in standard and free fall options. The ZCC1100H can also erect itself without the use of a helper crane, which is another huge benefit.
All of these features are standard on the ZCC1100H. Even better, its chart is competitive with every crane in its class. In field testing, it out-picked every competitor - Kobelco, Sany, Link-Belt, and more at the same capacity. Designed in the U.S., the entire Global line is world-class, feature loaded, and ANSI certified. And each of these models has the lowest pricing for its class in the industry.
The ZCC1100H joins its larger brother, the ZCC3000H, as the only crawler cranes designed by Zoomlion for the Western market.
ABOUT GLOBAL CRANES
Global Cranes, in partnership with Zoomlion, offers full lines of Rough Terrain Cranes and Crawler Cranes that meet ANSI standards. The Global team has more than 100 years combined experience in the crane industry and is poised to meet the needs of customers both domestically and internationally. For more information, contact Global Crane Sales, 14702 Jersey Shore Drive, Houston, TX 77047 call 832-987-2600, email info(at)globalcranesales(dot)com, or visit the website at http://www.globalcranes.com.