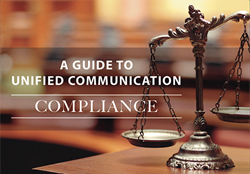 It is imperative that compliance be a part of unified communication decision making processes
Schaumburg, IL (PRWEB) February 24, 2015
ISI Telemanagement Solutions, Inc., a leading provider of unified communication management solutions, has released a solution guide designed to assist organizations with understanding compliance needs for all their unified communication efforts.
This solution guide tackles the issue of compliance across many different verticals. Mandates have become increasingly strict for not only the financial industry, but healthcare, government, and education as well.
The goal of the solution guide is to provide organizations with groundwork for understanding what is expected from them when communicating internally and externally. The best method to make sure compliance is properly handled is by managing all conversations. This is especially important as interactions and conversations occur over a number of different modalities, including phone calls, video chats, and instant messaging. To complicate things further, these interactions can occur across various devices, including desk phones, laptop clients, and mobile clients such as Microsoft Lync and Cisco Jabber.
"Our goal is to provide organizations with a framework for how compliance applies to them, and what solutions are available to avoid any infractions," says Mitchell Weiss, Director of Unified Communication Products with ISI Telemanagement Solutions, Inc. "It is imperative that compliance be a part of unified communication decision making processes."
Many organizations are not even aware of what is needed to maintain compliance. Because of this, many are afraid of deploying more advanced solutions for communication, such as Cisco Jabber and Microsoft Lync. Fortunately, solutions like call accounting & reporting, collaboration recording, speech analytics, and mobile device management exist to provide confidence in maintaining compliance through proper archiving and the development of a fully searchable audit trail of conversations.
To learn more about Unified Communications Compliance, please download our Solution Guide.
ISI's Solutions portfolio brings together time-proven technologies for the management of unified communications through wireless and landline Call Accounting & Reporting, Telecom Audit & Optimization, Collaboration Recording (Voice, Video, Instant Message, Screen Capture), Invoice & Inventory Management, Wireless Management, Workforce Management, and Speech Analytics. ISI's facilities, processes, and data security comply with ISO 9001:2008, SSAE 16, HIPAA, Safe Harbor and other important standards.