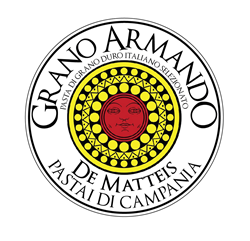 "Pasta should be firm to the teeth and hold the sauce well."
(PRWEB) February 19, 2015
Gourmet Italian, online Italian food specialist, is pleased to announce the full line of imported Grano Armando pasta products are now available in the Gourmet Italian online food store. Pasta shapes include spaghetti (spaghetto), zita (penne), tortiglione, treccia, and more, all available at GourmetItalian.com.
Grano Armando pastas are produced using a traditional method known as bronze die extrusion, a process that produces a slighter rougher texture on the outside of the pasta. This texture allows sauce to grip the pasta rather than slide off—a common problem for pasta produced by cheaper, cost-saving production methods.
In addition, Grano Armando pasta is made of simple ingredients—only 100% Italian durum wheat semolina and water—and is slow dried for the best quality.
Gourmet Italian is offering Grano Armando products created in traditional pasta shapes:
Grano Armando Chitarra Pasta
Grano Armando Spaghetto Pasta
Grano Armando Treccia Pasta
Grano Armando Zita (Penne) Pasta
Grano Armando Anello Pasta
Grano Armando Fusillone Pasta
Grano Armando Pacchero Pasta
Grano Armando Cannerone Pasta
Grano Armando Tortiglione Pasta
Gourmet Italian added the Grano Armando line for consumers searching for exceptional quality pasta crafted using traditional preparation methods. The company represents the best in Italian pasta making—simple ingredients, prepared using age-old methods that are known to produce superior results. When it comes to quality, it's best to avoid cutting corners.
"The difference between true Italian pasta and regular store-bought pasta is significant," says Gourmet Italian owner. "Pasta should be firm to the teeth and hold the sauce well. Common pasta is not made using methods that will allow this. In fact, I believe most people have never had the chance to enjoy a quality pasta, and this tasty experience is something we're proud to offer at Gourmet Italian."
The complete line of Grano Armando pasta can be purchased on the Gourmet Italian website. This line of quality pastas is perfect for dinner parties, romantic meals, and Italian food connoisseurs.
Wholesale Food Network LLC operates out of Youngstown, Ohio, and has been doing business under the "Gourmet Italian" name since January 2009. For more information on any of their products, please visit the Gourmet Italian food store website.