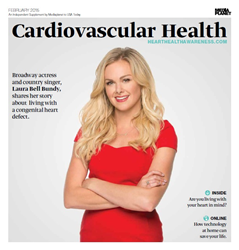 Because of advances in medical science, I am living a healthy life and will be able to close it without open heart surgery—something that was impossible 30 years ago
New York, NY (PRWEB) February 20, 2015
Laura Bell Bundy, the celebrated Broadway actress, country singer and heart health advocate, graces the cover of the print publication. Through an exclusive interview, the star opens up about living with a congenital heart defect. "I was born with a ventricle septal defect. In laymen's terms I have a hole in my heart," she shares. "Because of advances in medical science, I am living a healthy life and will be able to close it without open heart surgery—something that was impossible 30 years ago."
The print component of "Cardiovascular Health" is distributed within this weekend's edition of USA Today in New York, Los Angeles, Chicago, Atlanta, Dallas, Houston, Phoenix, Kansas City with a circulation of approximately 450,000 copies and an estimated readership of 1.3 million. The digital component is distributed nationally through a vast social media strategy and across a network of top news sites and partner outlets. To explore the digital version of the campaign, click here.
This edition of "Cardiovascular Health" was made possible with the support of UW Health, a leader that has the expertise to create unique images that only a handful of hospitals in the country can produce. The University of Wisconsin holds the patent on a specific, high-resolution technique to create 4-dimensional images that help develop a precise plan for repair for those with cardiovascular disease. To read more, be sure to pick up a copy of USA Today in one of the distributed markets.
This campaign was made possible with the support of The American Heart Association, Cardiovascular Research Foundation, Cleveland Clinic and many more.
About Mediaplanet
Mediaplanet is the leading independent publisher of content-marketing campaigns covering a variety of topics and industries. We turn consumer interest into action by providing readers with motivational editorial, pairing it with relevant advertisers, and distributing it within top newspapers and online platforms around the world.
Press Contact:
Jessica Guggenheimer
Jessica(dot)Guggenheimer(at)mediaplanet(dot)com
646-922-1401