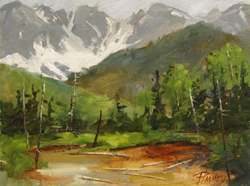 "It's a privilege and honor to represent two...artists. Patsy has the unique ability to bring her subjects to life in such a fun and different way. And Peggy's landscapes are simply beautiful and so appropriate to celebrate this crisp spring season.."
Durango, CO (PRWEB) February 20, 2015
Sorrel Sky Gallery showcases two masterful women artist - the "doggone" sculptor, Patsy Davis and the painter of "gorgeous" landscapes, Peggy Immel in both gallery locations. Both Davis and Immel and their work will be part of Durango's First Thursdays ArtWalk, March 5, 5 – 7 p.m. and Santa Fe's First Friday Art Walk, March 6, 5 – 7:30 p.m. The show will remain up through the end of March.
Davis grew up in Wisconsin and Iowa and in 1996 she moved to Southwest Colorado and in 2002 began working in bronze. Her stories told through her work reflect the sense of movement, and most of all a glimpse into the hearts and minds of the animals she portrays. She brings her years of experience and artistic focus to the animals she loves. Though canines, particularly service dogs, remain a specialty, the ranch animals and wildlife surrounding her provides inspiration.
Immel is a second generation Arizonan and spent her youth traveling the world as the daughter of a career Air Force veteran. She took her first oil painting class in Salina, Kansas at ten and eventually studied architecture at Arizona State University. While studying in New England, Immel became a rock and ice climber that became a turning point in her work with nature and adventure as her muse. Her move to Taos brought her back to her western roots where her landscapes are inspired by her love of the outdoors and the Southwest.
Shanan Campbell Wells, gallery owner says, "It's a privilege and honor to represent two such accomplished artists. Patsy has the unique ability to bring her subjects to life in such a fun and different way. And Peggy's landscapes are simply beautiful and so appropriate to celebrate this crisp spring season.."
Sorrel Sky Gallery's fresh approach to Western art presents a select collection of contemporary and traditional fine art and jewelry for the discerning collector. Sorrel Sky Gallery was founded in Durango, CO in 2002 and opened its Santa Fe, NM location in 2014. It represents over 60 painters, sculptors and jewelers including bronze artist Star Liana York, painter Billy Schenck, and former U.S. Senator Ben Nighthorse, among others.