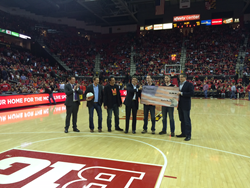 "Getting involved in the UMD Military Appreciation Game was a great fit for our company-for the veterans and UMD alumni who work for our company and the defense community for whom we serve.
College Park, MD (PRWEB) February 23, 2015
The patriotism was palpable from start to finish of the University of Maryland men's basketball Military Appreciation game presented by ClearShark last Thursday, February 19th. The crowd shared a respectful silence during the National Anthem while members of our military waved a court-sized flag over the floor, and then fans cheered excitedly as the National Guard rappelled from the ceiling of the Xfinity Center holding the night's game ball.
During half time, Jack Ryan, General Manager of Maryland Sports Properties, presented the game ball to Jason Miller, ClearShark Executive Vice President, Martin Bentz, ClearShark President and Founder, and Benn Stratton, ClearShark Vice President of Operations. In addition, ClearShark was humbled to donate $5,000 to Children of Fallen Patriots in honor of those who serve and have served. Children of Fallen Patriots is a very special charity that provides scholarships to students who have lost a parent in combat. Since its inception, Children of Fallen Patriots has provided $8.2 million dollars in scholarships to over 5,500 students. John Coogan, Executive Director of Children of Fallen Patriots, and Andrew Kleppe and Evan Kleppe, two prior recipients of these scholarships, were present to receive the donation.
After a nail-biting game, the Maryland Terrapins brought home the win with a score of 69-65.
ClearShark is a proud sponsor of several local youth, high school, and collegiate programs, and as such, ClearShark became a proud partner of University of Maryland Athletics in fall of 2014. The opportunity to be a partner of UMD Athletics and sponsor an event like the UMD Military Appreciation game was particularly exciting for ClearShark. With deep ties to the defense community, and with two executives and several employees having formerly served in the military, honoring those who serve and have served is ingrained in the ClearShark culture. And of course, several ClearShark employees are UMD alumni.
ClearShark, an IT Solutions Provider and a 2014 Inc. 5000 company, is a team of highly experienced, federally cleared sales professionals who provide their expertise to deliver the best overall storage, systems, network, and security solutions. ClearShark's award-winning partnerships with industry-leading innovators ensure that customers receive the ideal combination of products and services to exceed their mission and goals.