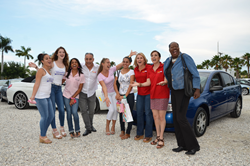 Join us this Wednesday at Off Lease Only Lake Worth for our next car donation!
Lake Worth, Florida (PRWEB) February 25, 2015
Off Lease Only and Best Foot Forward join forces to make another Strive To Drive Challenge happen this Wednesday at their Lake Worth Road car dealership. Heather Moorer doesn't know it yet, but she is about to receive a 2006 Chrysler Town & Country Minivan to make her life a whole lot easier and rightfully so, she is an outstanding individual that deserves a break. Heather Moorer is a twenty six year old mother to a four year old son, Tommy. One night she got a call from her half-sister Savanah (who she had never met), needing somewhere to stay. Savanah's mother had gotten arrested for domestic abuse and Savanah had finally found her voice and bravely spoke up about the abuse her mother has inflicted upon her for years. Heather took her sister in, and as Savanah's mothers mental state deteriorated more and more, she received temporary custody. Now, within a few short months, Heather plans on adopting her half-sister.
"We have had quite a journey over the past year and a half. After taking on the challenge of becoming a single mother, coming from an abusive background myself, I know I will have two kids who will follow my example. I want them to grow up feeling loved and protected and to have as many "normal" things that other kids have" says Heather Moorer. "Having a vehicle would change and enrich our lives greatly. There are so many things that can be taken for granted. Being able to go food shopping with your kids and fit more in a trunk then you can in your arms. Being able to go to the doctor or a meeting without planning around public transportation, which you will always run the risk of looking irresponsible if the bus runs late, would be a dream come true."
Savanah has a lot of court and doctor's appointments due to her situation. Being able to pick Savanah up from school if she needs to stay for tutoring, or just being able to drive to the park or the library and get out of the house and have good experiences would be something Heather would like to provide her half-sister and four year old son. She would love to not have to rely on asking people for favors of driving them where they need to go. That would be life changing for this family. Currently they are living with a friend, and it is not close to public transportation. They live pretty far from school too. With a car, Heather would be able to immediately obtain a job, and is really looking forward to being able to work to provide for her new family. She mentions that she also feels lucky because her son's father and cousin are both auto mechanics, so she is confident that she can take care of the regular maintenance that goes along with owning a vehicle.
"We have learned the true meaning of family and I know that things are going to be hard for us for a long time as we work through the trauma Savanah has experienced. I am strong and determined, so I know I can help her. At the same time, she has helped me by enriching my life so much. If you choose me for your program, I would be forever grateful and you would know that you are changing not one life, but 3!"
The team at Off Lease Only & Best Foot Forward's hearts were touched greatly and they are beyond proud to present a 2006 Chrysler Town and Country to Heather Moore this Wednesday at 4:30pm @ Off Lease Only located 3531 Lake Worth Road. Heather Moorer thinks she is a finalist for Off Lease Only and Best Foot Forward's Strive to Drive Challenge, so she will be pleasantly surprised when the news stations and film crews are on site to capture the moment.
"Off Lease Only owners Mark & Eileen Fischer started this company with two cars that they bought with their life savings and have grown over the last twenty years to nearly 100,000 happy customers. They take a lot of pride in being one of the most charity driven car dealerships in Florida. They are a joy to represent as they believe very much in giving back to our community," says Marketing Directory Monique Hausheer. "There's nothing better than stopping for a moment and seeing the impact that a car donation will have on so many deserving families that we've helped throughout the years. We are very grateful for our long term relationship with Best Foot Forward and look forward to helping our next great candidate!"